San Diego All Star Wil Myers controversially admits preferring East Coast Mexican food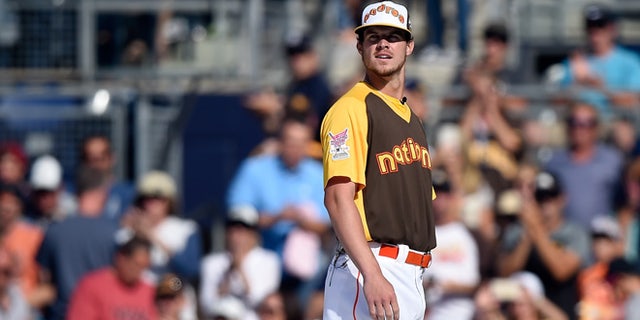 San Diego Padres All Star Wil Myers may have just made the biggest error of his professional baseball career … and it didn't happen on the field.
While taking part in the pre-All Star Game media day, the outfielder was tossed a softball question about what type of Mexican food he prefers. Instead of hitting it out of the park by rattling off some of San Diego's best burrito joints and taquerias, Myers promptly struck out with the hometown crowd.
"I've said this on a couple occasions, and people get really mad at me," the outfielder said, according to the San Diego Union-Tribune. "I enjoy East Coast Mexican food a little better. Yeah, wow. I grew up on it. That's just what my taste is, but there's nothing wrong with San Diego Mexican food."
Myers comments sparked an immediate backlash in the local media, social media and San Diego-area businesses who were appalled at the slugger's answer.
The Union-Tribune lampooned him, saying: "Has Myers ever ventured right outside Petco Park to Lolita's and tasted a California burrito?... Even East Coasters know he's wrong, right? And if he's joking, c'mon man, this is nothing to joke about."
But the paper's complaints were tame compared to those on social media, where some even called for Myers to be traded for the offense.
"Has anyone ever been traded in the middle of an All Star Game media day? Because I think we're about to see history be made," Twitter user Matthew Lyon posted.
Paul Mittendorff said, "Does he want out of S.D.? Cause that's how you get booted from S.D."
Local Mexican chain, Puesto, challenged Myers to put his favorite East Coast food up against theirs.
The next time Myers finds himself in his native North Carolina, let's hope no one asks him about the best barbecue.