San Antonio's beautiful routine grew out of losing season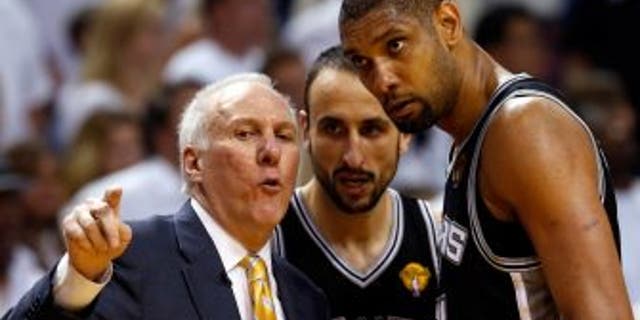 It all began with a lot of losing.
That's maybe the most remarkable thing about the San Antonio Spurs' dynasty. The reliable, coldly efficient, winning machine that has been built in San Antonio, it was all made possible because of a 60-loss season, the kind of miserable affair that a franchise tries to forget forever. And the Spurs actually did.
An injury to David Robinson got the whole thing started. Then, 18 games into the 1996-97 season, general manager Gregg Popovich fired Bob Hill, and installed himself as head coach, (presumably so that he could spend as much time as possible dealing with the media on a frequent basis). After a few more months of injuries, and struggles, and a blink-and-you-missed-it cameo from the Human Highlight Film, the Spurs turned to the refuge for all lost NBA teams, the Draft Lottery.
Wouldn't you know it, the ping pong balls bounced the Spurs way. And unlike the hapless teams that make a trip to the lottery an annual affair, San Antonio hasn't been back since. Tim Duncan arrived, stopped over at David Robinson's house for a quick shave, and almost immediately began winning championships. They've won four titles in the Duncan/Popovich era. They've had more 50 win seasons in that stretch than most teams have in their entire history. They've won practically every individual award the NBA gives out. There are no valleys. Only peaks.
And all this success, well, it has spoiled us. We're never excited about the Spurs, not in the way we should be. They are the team you can set your watch to. They are the comfortable mid-sized sedan of the NBA. They are that thing that we all should strive for, but that no one ever wants to be called: Reliable.
We're talking about the Spurs a lot these days, and not just because they're in the Finals. It's also because of our tendency to cling tightly to things that are leaving us. We're going to spend the next year lamenting the end of Sterling Cooper Draper Pryce, pausing only to pack into theaters for the final installments of the Hunger Games, and maybe making time for a quick trip to New York City, because didn't you hear, the Allman Brothers Band is calling it quits, and no matter how you feel about them, you'd better make time because this is the last chance.
We measure our lives through our culture, and when a piece of that culture comes to an end, it doesn't matter how many stories, or songs, or YouTube tribute videos are left behind, that thing that we loved, it's not really there anymore. And so before it disappears forever, we have to ask where it came from, what it represented, and why it is important. In the digital age, there's no room for waiting. We write our history as soon as things play out, or in some cases, even before. We don't actually know that Duncan is retiring at the end of the season. Popovich has not actually said that another championship would cap his time as coach. But it feels like the end is in sight, and so there's no time like the present to ask what this era of Spurs basketball really meant.
The answer to that question, not surprisingly, is "whatever you want it to." The Spurs have been so good, for so long, that they can stand as an example of just about anything. To some, they represent the triumph of "team" basketball over individual stars. (Never mind the three future Hall of Famers that have anchored their success.) To others, a roster filled with international talent means that the Spurs have, over time, "Europeanized" the game. (Never mind that the number of foreign players taken in the NBA draft has actually declined in recent years.) And in an era of big-ticket free agents migrating to the biggest cities, the Spurs are consistently held up as an example that yes, small markets can still succeed, so long as they follow the "blueprint" laid out by Popovich, R.C. Buford and company.
But if it was really that simple, if there was really a blueprint, a set of instructions for others to follow, than we wouldn't be spending all this time on the Spurs in the first place. Some new, young, upstart team would have come along by now, pushed San Antonio aside, and left us nostalgic for the days when Sean Elliot and Avery Johnson ruled the world. Instead, time marches on, and the Riverwalk is always draped in black, white and silver this time of year.
So what then, do the Spurs mean? What do they represent? Maybe there is no one answer. Maybe the fact that we're asking the question at all is what's important. (After all, nobody ever inquires about the legacy of the last 20 years of the Milwaukee Bucks.) The Spurs are where they are not because of one big thing, but because of 1,000 things they did just a little bit better than everybody else. They didn't revolutionize the game of basketball, they simply helped it evolve.
We could have had this exact conversation a year ago of course. A perfect, powerful crescendo to the Spurs story was all but written, until Ray Allen found just enough room in the corner to extend the narrative. Allen's fateful three will live as one of the biggest shots in the league's history. It was a culmination of a lifetime of work, a moment that inspires tributes, and breakdowns, and oral histories. It was a play that would have shattered most teams, and sent them back to the drawing board. But the Spurs? The beautiful, impeccable, reliable Spurs? They're back here, again, with a second chance at that once-in-a-lifetime ending.
No matter what happens over the next two weeks, there's no denying that this postseason has felt like a farewell tour for this aging band of basketball virtuosos. It began with seven grueling games against their bitter in-state rival. Then it was time to dispatch the young newcomers from the northwest, before getting their revenge on the pair of superstars that ousted them two years ago. The Spurs are settling all family business, and only the Miami Heat remain. You can hardly blame Duncan for welcoming the challenge, for talking openly about being "happy" to see the defending champs.
Meanwhile, the rest of us are happy to see the Spurs, again, right where they belong. We've celebrated them, and we've taken them for granted, and now we're savoring them, because we just don't know how much we have left. Every Tim Duncan post-up, every Manu Ginobili runner, every exasperated Gregg Popovich interview, could be the last. They'll mean more to us, on the outside, because the end is near. But to them? It's all just a part of the program. The beauty of the San Antonio Spurs is that in times like these, there's nothing they need to change, no extra gear they need to engage. Since that last losing season almost 20 years ago, they've won 1,095 basketball games. What's four more?
As we ponder the legacy, the meaning, the purpose of the San Antonio Spurs, we could do worse than to say that they made a superhuman sport look so simple. There is beauty in routine, there is power in process. And no, there's nothing wrong with being reliable. We'll miss this team, this dynasty, whenever it's gone, because if anyone else can do what this team has, they surely won't be able to make it look so easy.