San Antonio Spurs coach Gregg Popovich endorses Beto O'Rourke for Senate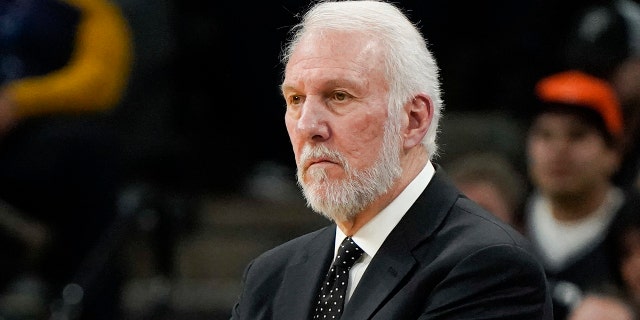 San Antonio Spurs head coach Gregg Popovich waded back into the political realm Saturday, endorsing Democratic Rep. Beto O'Rourke in his Senate race against incumbent Republican Ted Cruz.
Popovich told reporters before the Spurs took on the New Orleans Pelicans that O'Rourke makes him feel "like what I thought an American is supposed to be," according to the San Antonio Express-News.
"You get so tired of all the lies and the divisiveness, and the fearmongering and the race-baiting. It just diminishes all of us," said Popovich, who has been an ardent critic of President Trump. "It makes all of us feel strange, and when I think of Beto, or I listen to what he says, I feel like what I thought an American is supposed to be. He's classy. He's intelligent. He's civil."
Popovich said he was also impressed O'Rourke visited all of Texas' 254 counties during his campaign and added he believes O'Rourke "wants justice" and "wants our democratic institutions to be respected so we're proud to be Americans."
"That's why people like Beto are so important, because he embodies that. He is there for us. He's not there for his own personal gain and position. When people are so desperate, as is his opponent, that scares me," the longtime NBA coach said. "To do what Mr. Cruz has done to try to get elected is very scary. That's about self. That's not about the rest of us. And Beto is the exact opposite of that, and that's why I think he is great."
O'Rourke tweeted his thanks to Popovich.
"Thanks, coach. Honored to have your support," O'Rourke wrote.
Popovich joined a chorus line of prominent NBA figures who have stepped into political waters ahead of Tuesday's midterm elections. Coaches Doc Rivers and Steve Kerr and all-star player LeBron James are among those who have either railed against Trump or thrown their support at a candidate.
James was seen wearing a "BETO" hat before a game in October.