Samuelsson set to return to Canucks' lineup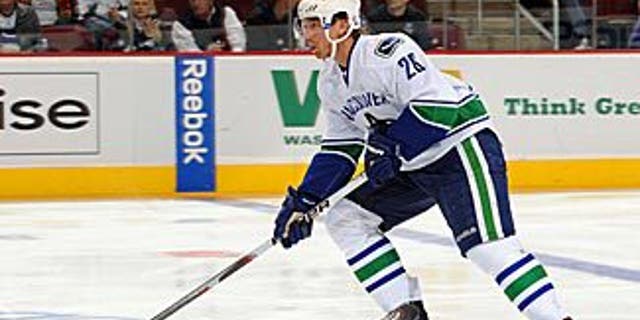 VANCOUVER, B.C. -- The Vancouver Canucks will have one injured body back in the lineup when they face the Edmonton Oilers in the second half of a home-and-home, as Mikael Samuelsson will return to the team's second line Tuesday night at Rexall Place.
The 34-year-old suffered a lower-body injury in the team's 3-1 loss to Phoenix on March 18 and missed six games with the injury.
"I was tired out there today," he said. "Give me three games -- I'm in (game shape)."
Samuelsson will skate on a new-look second line alongside Chris Higgins and Ryan Kesler.
"I've played against (Higgins) a lot, he's a great player," Samuelsson said of his new linemate. "At the time I was injured I tried to see what he was doing out there and try to learn from that and see where he goes.
"He has good hands and work ethic -- he's a good player."
With Samuelsson returning to the lineup the Canucks have sent Victor Oreskovich back to the Manitoba Moose of the American Hockey League.
On the blue line, both Alexander Edler (back) and Andrew Alberts (wrist) will travel with the team to the Alberta capital, but neither will play.
Edler is a possibility for the Canucks' final home game on Thursday when the Minnesota Wild visit Rogers Arena.
The 24-year-old has been out of the lineup since a 7-1 win on Jan. 24, when he was involved in a center-ice collision with Dallas Stars forward Jamie Benn.
"It was a good practice today, a little more game-like drills out there, which I need to get my timing back," Edler said. "My back feels fine -- I just need to get game ready, I guess."
Edler underwent lower-back surgery in late January and has missed 30 games.
Alberts, 29, broke his wrist in the Canucks' 3-2 loss in St. Louis on Feb. 14. He has missed 22 games with the injury, which he sustained while going in to the corner to throw a routine hit.
"To tell you the truth, we still haven't talked about (a return date)," Alberts said after practice. "I feel good, I feel healthy -- obviously a few practices would be good.
"We've been doing treatment left and right here, so it feels good."
The news isn't as good for Dan Hamhuis, who suffered his second concussion of the season on March 27 in Columbus when he and teammate Kevin Bieksa went to sandwich Blue Jackets forward Rick Nash.
Hamhuis lost his footing and hit his head on the ice as a result of the collision. The 28-year-old skated on his own with Canucks skills coach Glen Carnagie prior to practice.
Vigneault speaks mind: Coach Alain Vigneault had to stop his Presidents' Trophy winners mid-practice Monday and had a few choice words for his players before resuming. It was Vancouver's first time back on the ice since an embarrassing 4-1 loss to the Oilers on Saturday night.
"If a coach only has to stop practice one time during the year because he's not happy with execution or total involvement -- it's been a pretty good year," Vigneault said, downplaying the incident.
Added captain Henrik Sedin, "We didn't do some drills right and that's what happens sometimes. We had a day off yesterday so maybe we were a little rusty and after that we were a lot better."
Malhotra visits: Canucks center Manny Malhotra, who took a puck to the eye in the Canucks' 4-2 win over Colorado on March 16, visited the team on Saturday.
Malhotra is done for the season, playoffs included, and had a second surgery done on his left eye March 29.
"It was good to see him, it's good for him to be around the room," Kesler said.
Added Vigneault, "He'll be here to help out his teammates and as far as his situation is concerned, I'm going to let him deal with the fans and the media when he's ready. We're really happy to have him around the team."