Sam Bradford's career earnings equal $1 million per touchdown pass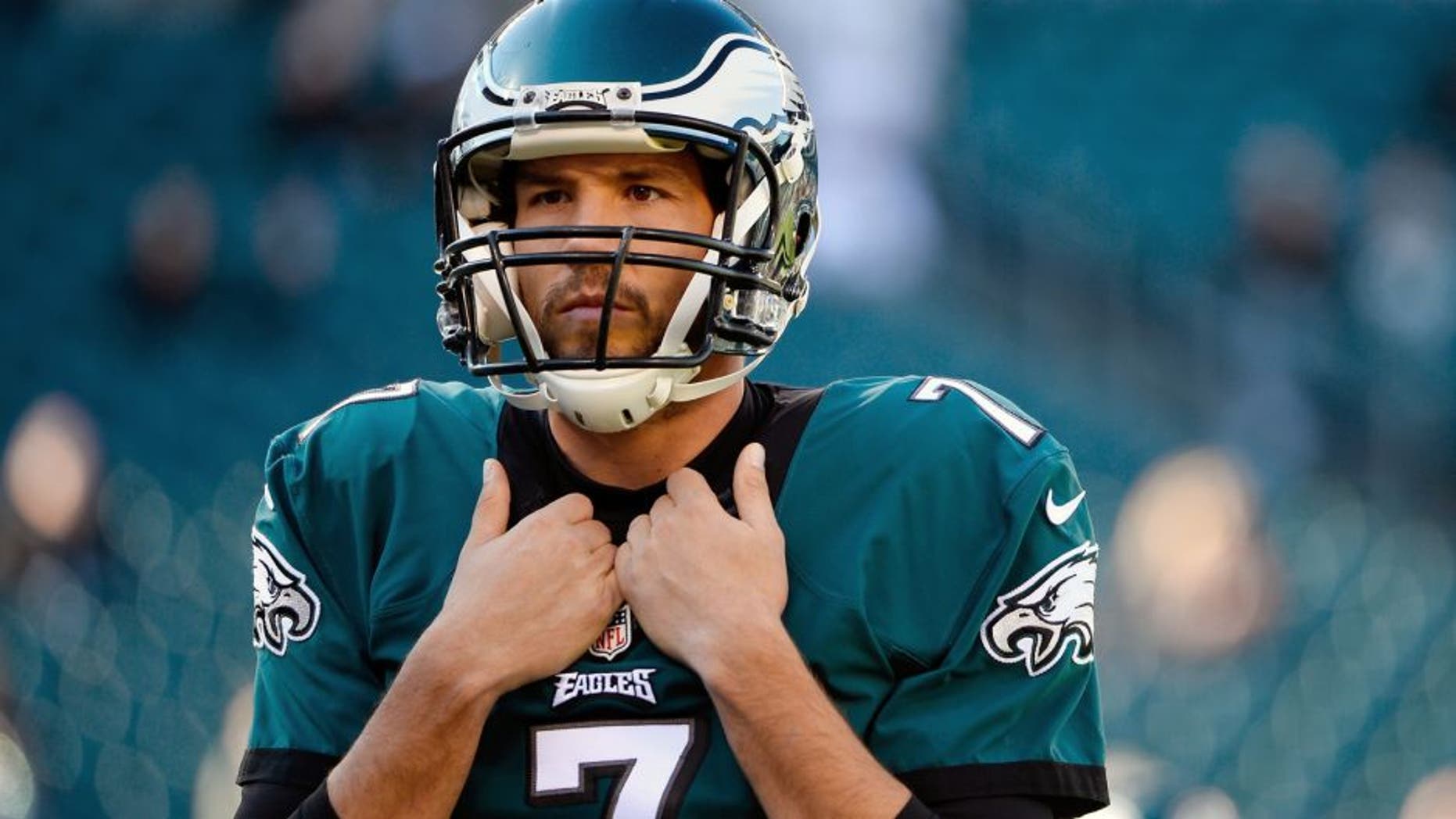 The Philadelphia Eagles found themsleves in a bind this offseason. Sam Bradford was coming off of his first season with the team, having thrown 19 touchdowns and 14 interceptions. Although he posted career-bests in yards, completion percentage and yards per attempt, his numbers were widely underwhelming.
Thanks to Bradford's disappointing season and expiring contract, the Eagles were backed into a corner. And as teams are sometimes forced to do, the Eagles had to overpay to keep Bradford -- a mediocre, unproven quarterback who's been injured throughout his career.
On Tuesday, they signed him to a two-year, $36 million extension, which could be worth up to $40 million with incentives. By no means is that a cheap or team-friendly contract, but other options were few and far between.
Sure, they could have slapped him with the franchise tag, which would have paid Bradford $19.953 million for the 2016 season. The Eagles also could have let him walk and take a chance on acquiring a Robert Griffin III or Colin Kaepernick. Or, hope a potential franchise quarterback is available in the draft when they pick 13th overall.
Regardless of whether the Eagles were right to pay Bradford upwards of $36 million, one thing remains certain: his career earnings don't match his production.
Up to this point, Bradford has made $78 million in six years. Granted, he was a huge benefactor of being a part of the last draft class to get massive rookie contracts. Still, in those six years, his impact has been minuscule -- both with the Rams and Eagles. He's far from being one of the top quarterbacks in the league, yet he's been paid like one throughout his career.
Since he was drafted first overall in 2010, 20 quarterbacks have started at least 60 games. Here's how he ranks among them:
Not ideal, to say the least. Shocking is probably a better word. And when you break down his career earnings based on production, it's even more startling.
$1 million per touchdown pass: In six seasons, Bradford has thrown 78 touchdown passes. Based on simple arithmetic, that works out to be $1 million per passing touchdown. By comparison, most quarterbacks make about half that. Peyton Manning has made $248.7 million in his career and has thrown 539 touchdown passes -- or $461,469 per touchdown. Tom Brady's career earnings are $162.8 million, and he's thrown 428 touchdowns -- netting him $380,326 for each score through the air. Heck, Bradford's teammate, Mark Sanchez has made less per touchdown ($803,982). No quarterback among the top-32 career earners in the NFL makes more money per touchdown than Bradford.
$3.12 million per win: As noted above, Bradford has won fewer games than every quarterback to start at least 60 games since he came into the league. His career record sits at 25-37-1, netting him slightly more than $3 million per win. Brady has made under $1 million per win in his career, having won 172 regular-season games. That number dips when one includes his 22 postseason victories. Manning has made about $1.34 million per win in his career. Most quarterbacks make just north of $1 million for each victory, which Bradford clearly trumps.
$56,603 per completion: Every time Bradford has dropped back and completed a pass, he's earned himself $56,603 -- or the amount some people earn in one year. That's not a bad rate for a guy who's completed 60.1 percent of his throws in his career. Philip Rivers, by comparison, has made $43,879 per completion. Joe Flacco, by the same token, has made $34,610 per completed pass.
$1.2 million per start: Bradford has started 63 games, or about 10 per season. Those games, however, have been kind to his bank account. For each time he's taken the field as a starter, he's made himself $1.2 million. While that number is on par with most quarterbacks, guys like Alex Smith ($652,686) and Russell Wilson ($529,657) have made significantly less per start.
$5,277 per passing yard: Bradford's 14,790 career passing yards are nothing to applaud, given his average of 234.8 yards per game. That number was higher this season (266.1) in Chip Kelly's offense, but he won't have the benefit of running that up-tempo offense this season. Instead, he'll work under head coach Doug Pederson and offensive coordinator Frank Reich. Pederson didn't have the highest-powered offense last year with the Chiefs, so Bradford's numbers could dip a bit.
$6.5 million for every 300-yard game: Bradford has thrown for more than 300 yards 12 times. In 127 starts, Tony Romo has eclipsed 300 yards 46 times, earning $2.6 million for each of those games. Carson Palmer has 43 such games in 159 starts, which comes out to $3.2 million per 300-yard performance.
Bradford still has plenty of years left in him given the fact that he came into the league in 2010. But he's going to need to post better numbers in the next few seasons to justify the money he's been paid. If he remains on the Eagles roster for the next two seasons and makes another $36 million, he'll have career earnings north of $114 million.
A playoff appearance or two would certainly help his case, as would a season with 25-plus touchdown passes and more than seven wins -- two things he's never accomplished. Bradford's book is still being written, but if he never wins a playoff game, it will only affect his legacy, not his bank account. The Eagles are paying him like a franchise quarterback whether they like it.