Saints RB Adrian Peterson reveals how much longer he wants to play in the NFL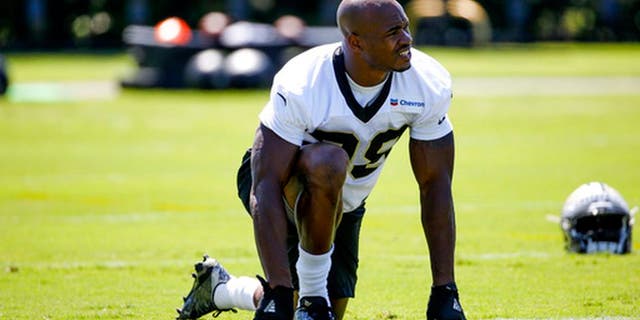 NEWYou can now listen to Fox News articles!
Veterans talking about how long they want to play has become a common trend in the NFL. Tom Brady is willing to play six or seven more years, Drew Brees wants to keep slinging it until hes 45, and the Chargers seem to think Philip Rivers has three to four more years in him.
Quarterbacks are often the ones with expiration dates, so to speak, but future Hall of Fame running back Adrian Peterson now has revealedjust how much longer he wants to play in the NFL.
"Thirty-seven, 38 would be good," Peterson said via NOLA.com, admitting he came up with the number after seeing Steve Gleasons No. 37 jersey. "It's a good number. It's approaching 40, and then I see 37 sitting up there."
Peterson is currently 32 years old, so he plans to play at least another five years. That would buck the trend of running backs declining after 30 in a big way, making him one of the oldest players at that position. Only two running backs have rushed for more than 1,000 yards after age 35: John Riggins in 1984 and John Henry Johnson in 1964.
New Orleans Saints/Twitter
In fact, only 12 backs have rushed for more than 1,000 yards after age 32, with just four doing so since 2000. Frank Gore is the latest to do it, racking up 1,025 yards in 2016. It would be a surprise to see Peterson surpass that total this season during his first year inNew Orleans crowded backfield, but its not out of the realm of possibility.
Weve seen Brady and Brees continue to be productive into their late 30s, and Peterson said he shares the same mindset they do.
"Yeah, that's always been my mindset, to defeat the odds, to be that person to show the youngsters and the aspiring kids that want to play football and just athletes around the world in every sport, that it doesn't matter what the people say around you," Peterson said. "As long as you believe and you put in the work, and God blesses you with good health, you could accomplish anything you put your mind to. So that's the kind of example that I want to leave."
Peterson has received rave reviews from teammates in OTAs, so make of that what you will. But at the very least, its promising that hes fully healthy again and back on the field after missing just about all of 2016.