Safely through Black Friday, McIlroy starts focusing on silver at British Open _ claret jug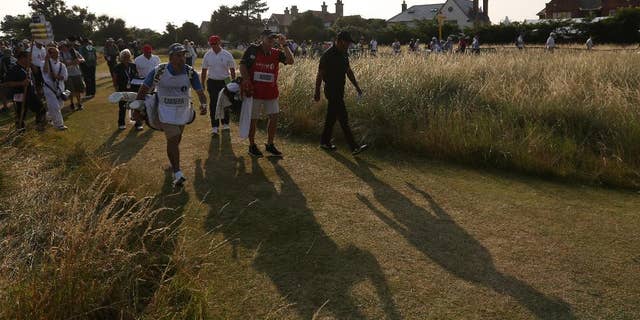 HOYLAKE, England – Now that he's gotten past Black Friday, Rory McIlroy can start focusing on silver.
The claret jug.
After a bogey on his opening hole stirred memories of another second-round debacle, McIlroy looked more like the Boy Wonder who won two majors in a runaway. With three birdies in his last four holes, he posted a second straight 6-under 66 Friday to build a four-shot lead at the British Open.
McIlroy spoke of an "inner peace" and two secret words that triggered his powerful swing and set up birdie chances on just about every hole.
"People call it the zone, people call it whatever," he said. "It's just a state of mind where you think clearly. Everything seems to be on the right track."
McIlroy, looking nothing like the player who struggled all year to go low in the second round, was at 12-under 132 — the same 36-hole score that Tiger Woods had on his way to winning at Royal Liverpool in 2006.
Dustin Johnson birdied the last two holes for a 65, the low score of the week. Perennial major contender Sergio Garcia (70) was part of a large group at 138 that included Rickie Fowler (69), Charl Schwartzel (67), Louis Oosthuizen (68), Francesco Molinari (70) and Ryan Moore (68).
McIlroy's challengers could rely on a bit of history for hope. In the last 43 years, only 17 leaders at the midway point have gone on to the claim the claret jug.
But McIlroy definitely looked like the man to beat.
"Two 66s from Rory is a bit special, but he is just that — he is a bit special," Graeme McDowell said. "So he's going to be tough to catch this weekend if he keeps that up."
Here are five other things to look for in the third round:
EYE ON THE SKIES: With heavy storms heading toward Hoylake, the R&A took the unprecedented step to play the third round from two tees. Threesomes are scheduled to tee off at both the first and 10th holes, all in hopes of completing the round on Saturday. The British Open has used a one-tee start throughout its 154-year history, but tournament official David Rickman said the decision to use a second tee would put the Open "in a better place on Sunday." The compressed scheduled allowed for up to five hours in delays.
SERGIO'S QUEST: Garcia was just a teenager when he challenged for a major title at the 1999 PGA Championship. He's now 34, and still seeking that signature win. The Spaniard went to the weekend tied for third but needing to overcome a daunting six-shot deficit to McIlroy. Garcia played in the final group with Woods in 2006 wearing a garish yellow outfit that made him look like a banana. He quickly faded from contention.
TIGER WATCH: Speaking of Woods, he looked like a contender after he opened with a 69. But the 14-time major champion barely made the cut after shooting 77 on Friday, his worst round at the British Open since that infamous 81 at stormy Muirfield in 2002. Clearly, he's still a bit rusty after undergoing back surgery and missing the first two majors of the year. He barely made the cut, needing a testy 6-foot birdie putt at the final hole, but goes into the weekend a whopping 14 shots behind McIlroy. Looks like major title No. 15 will have to wait.
DEFENDING CHAMP: Phil Mickelson broke par at a major for the first time since his victory at last year's British Open. While he's 12 shots off the lead, a 70 in the second round was encouraging to Lefty. "I'm striking it so good," he said. "And if I putt the way I putted the last nine holes for the weekend, I'm going to have a good chance." Mickelson made a few adjustments on the back nine, such as extending his swing more toward the target. He must be more consistent with the putter, however.
AGELESS WATSON: At 64, Tom Watson extended his record of being the oldest man to make the cut at the game's oldest major. Five years after he nearly won the Open at Turnberry, Watson will be hanging around for the weekend playing what he calls "old man's golf." He made the cut while Webb Simpson, Patrick Reed and Harris English headed home — three Americans who are looking to make the U.S. Ryder Cup team that will be captained by Watson. The way he's been striking the ball, maybe he should expand his search. "I'm thinking about picking the captain," Watson said, laughing.
___
Follow Paul Newberry on Twitter at www.twitter.com/pnewberry1963