Sacramento Kings' Zach Randolph arrested in Los Angeles on drug charge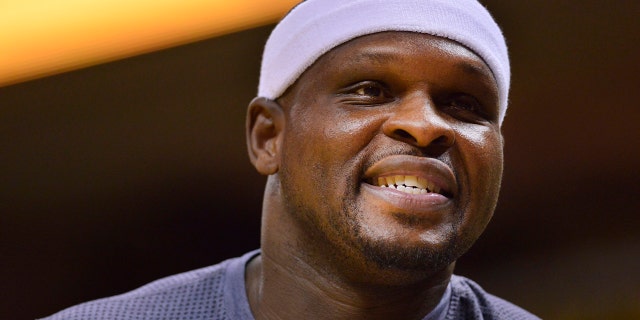 Sacramento Kings forward Zach Randolph and another man were arrested early Thursday at a Los Angeles housing project after several police cars were vandalized when a large gathering became unruly at a Los Angeles housing project, authorities said Thursday.
Randolph, 36, was arrested on suspicion of possession of marijuana with intent to sell, police told Fox LA. According to jail records, he was booked around 4:30 a.m. Thursday and released on $20,000 bail just before 8 a.m.
"The charges are false and misleading," Randolph's agent and attorney Raymond Brothers told The Associated Press on Thursday. "We're looking at all options to resolve this matter."
Police on patrol observed a crowd drinking, smoking pot, blasting music and blocking streets at the Nickerson Gardens project in the Watts section of the city, Los Angeles spokeswoman Liliana Preciado said.
Officers called for backup when the crowd grew and people began throwing bottles and rocks.
Five police cars and one sheriff's vehicle ended up with smashed windows and slashed tires. No officers were hurt.
Officers also arrested Stanley Walton, 43, on suspicion of carrying a gun as an ex-convict, Preciado said. She didn't know if Walton has an attorney.
Police recovered two guns, impounded two vehicles and seized narcotics, Preciado said.
Randolph, a two-time NBA All-Star, signed a two-year contract worth $24 million with the Kings in July after playing eight years with the Memphis Grizzlies, where he was a fan favorite and the team plans to retire his jersey.
The two-time NBA All-Star played for Michigan State University before being drafted in 2001 by the Portland Trail Blazers. Randolph also played for the New York Knicks and Los Angeles Clippers.
The Associated Press contributed to this report.