Sabres' penalty-killers reward coach's trust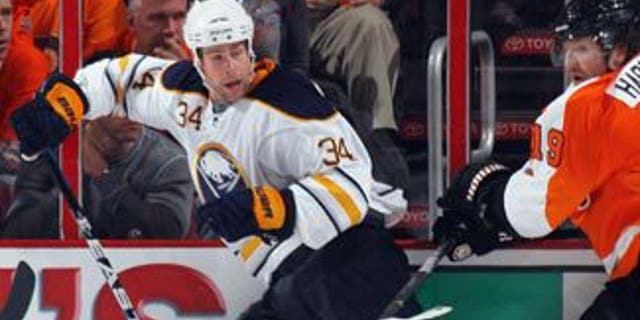 PHILADELPHIA -- With his team skating down two men in a scoreless game Thursday, Buffalo Sabres coach Lindy Ruff had no doubt who he was putting on the ice. Even when he had the chance to change up for fresh players, he stuck with guys he trusted.
That decision, and the efforts of center Tim Connolly and defensemen Tyler Myers and Chris Butler on a game-changing penalty kill, went a long way toward giving the Sabres a 1-0 victory against the Philadelphia Flyers here at the Wells Fargo Center and 1-0 lead in their best-of-7 Eastern Conference Quarterfinal series.
When Shaone Morrisonn went to the penalty box for slashing at 9:42 of the second period, he joined Steve Montador, who had been sent off 1:22 earlier for holding. The back-to-back penalties gave the Flyers a 5-on-3 advantage, and even though Philadelphia's power play struggled over the final six weeks of the season, a two-man advantage by its nature creates numerous scoring opportunities.
"Every time you get a 5-on-3 you get a good chance to score," Flyers defenseman Kimmo Timonen said.
The Flyers called their timeout to set up their plan, and Jeff Carter beat Connolly on the ensuing faceoff. Carter got into the slot and got his stick on a shot but tipped it wide. The Flyers kept possession and ended up getting it to Timonen at the top of the zone. He fired a shot but goalie Ryan Miller smothered it and got a stoppage.
"We were protecting the middle and pushing out kind of like pistons in that 5-on-3 and it sent them more to the outside," Miller said. "They wanted that center shot but they didn't quite align the screen they wanted, they got a little bit delayed by our presence in there trying to box out on the corners, so they were a little bit late on a few of those shots where I could see them."
Generally when a team is shorthanded, that team will look to put out fresh penalty killers at every opportunity. However, Ruff opted to stick with the same three skaters.
"Tim Connolly has been our best defending 5-on-3 forward," Ruff said. "He's great at reading the play, he makes himself big. He'll block a shot as well as anybody in this League when it comes to 5-on-3. … You have to give him a lot of credit. He'll stand in front of a guy and make himself big and if a guy shoots it, usually it hits him. He knows how to get in a lane and he's there and I thought our defense down low, we kept pushing them to the outside and when they got it up top we mirrored that top guy. We were able to limit the real good opportunities."
Connolly beat Giroux on the next faceoff, getting the puck to Myers, who rifled it into the Philadelphia zone as the time on Montador's penalty ended.
"I think it's desperation," Myers told NHL.com. "It's hard to stop every opportunity 5-on-3, especially with their skill. You just have to try and do the best you can to limit their time and space, but take away passing lanes."
It was a key moment in the game, and it spoke volumes about the degree of trust Ruff has in Connolly, Myers and Butler.
"It's nice to be the guy to go out there to try to kill those situations off," he said. "There's lot of other guys that could do it, too. The main thing is we killed it off and we got the win."
Contact Adam Kimelman at akimelman@nhl.com. Follow him on Twitter: @NHLAdamK