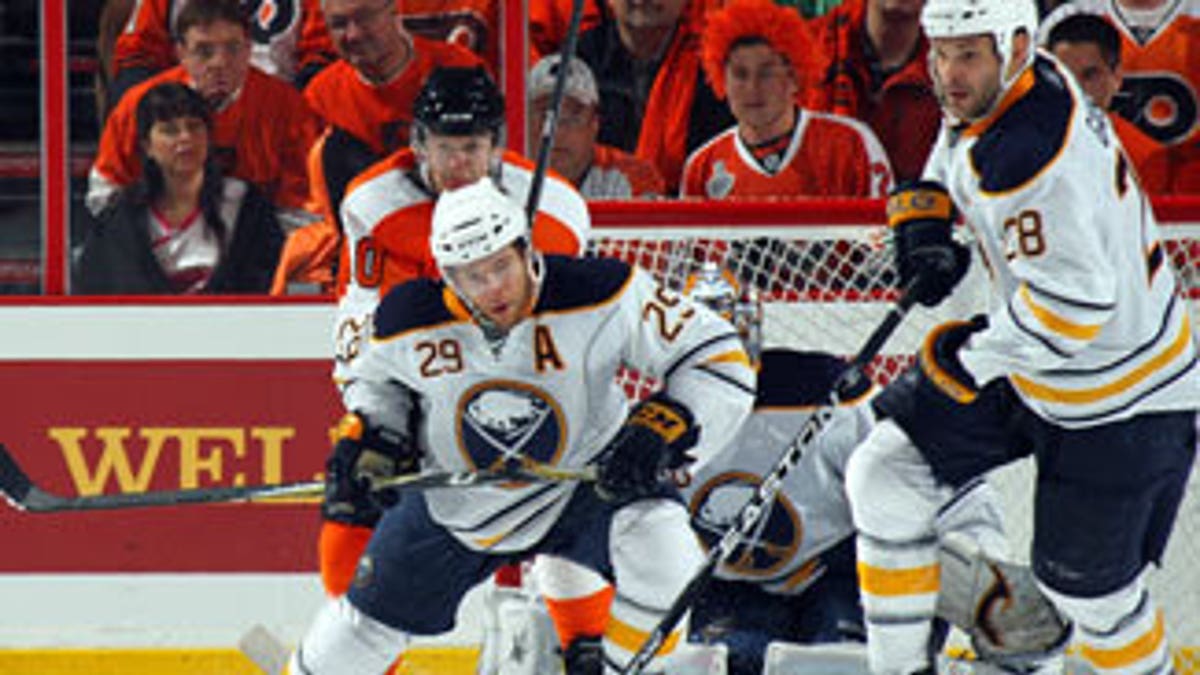 PHILADELPHIA -- If you're the Buffalo Sabres, there are two ways you can look at Saturday's 5-4 loss to the Philadelphia Flyers in Game 2 of the teams' Eastern Conference Quarterfinal series.
On the one hand, giving the Flyers 10 power plays showed a lack of discipline and too much aggressiveness at the wrong times.
On the other hand, killing nine of those 10 power plays -- including a pair of 5-on-3 disadvantages -- can only build confidence among the penalty killers, even if the one they allowed was Philadelphia's go-ahead goal.
"We're making it harder on ourselves definitely by taking that many penalties (but) I think we did a good job overall," Sabres forward Jason Pominville said. "When you give a team that many opportunities at it, that many cracks at it, eventually they will probably make you pay. I still think overall our penalty killers did a pretty good job tonight; they kept us in there."
The only goal they did allow was Ville Leino's wrist shot midway through the second period that hit goalie Ryan Miller's stick, rolled up the handle and slipped under his blocker to give Philadelphia a 4-3 lead.
"That's a very dangerous power play; I don't know what their percentage was during the season but we had a difficult time with them during the regular season and they put up a lot of goals," Sabres defenseman Chris Butler said. "They have a number of skilled players that make a lot of good reads and a lot of good plays. We look at the one that we gave up, it bounced off of Webby (Mike Weber) there and it was just kind of an unfortunate break. Overall, I think our penalty kill did a pretty good job tonight."
Rather than be disappointed with the number of penalties his team took, Sabres coach Lindy Ruff said he was happy with what he saw. He knew the Flyers, down in the series and desperate to leave Philadelphia with a split, would come out harder and be more physical than they did in Game 1. He knew it would be up to his team to match that intensity.
"I think we did get a little too jacked up," Ruff said. "Sometimes you get those calls, sometimes you don't get those calls. … We knew they were going to be desperate. I thought our response, maybe we took it a little bit too far, but I'd rather take it a little bit too far than not enough.
"I like where our club's at. I liked their compete (level), loved their battle-back. I loved everything about what they've done."
The Sabres equaled the Flyers physically, registering 31 hits to the Flyers' 34, and not backing down when challenged. However, pushing back when the Flyers push is one thing; it's a matter of walking that fine line between matching the aggression and taking penalties.
For the series, Buffalo has killed off 14 of 15 Philadelphia power plays, including three 5-on-3 disadvantages.
Philadelphia's extra-man unit may be misfiring for now, but the Sabres know that at some point, with their amount of high-end skill, at some point it could break through.
"It's something we talked about before the game," Pominville told NHL.com when asked about the need to stay disciplined. "We talked about it coming into the series and we haven't done a good enough job and put ourselves in penalty trouble. Definitely not the way we want to play. I thought our penalty killers did a good job, but if we give that team that many looks, they're going to make you pay eventually."
Contact Adam Kimelman at akimelman@nhl.com.