Sabres must weather early storm in Philadelphia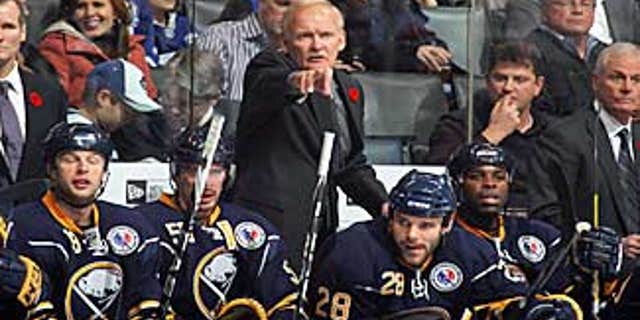 PHILADELPHIA -- No better time to ask Buffalo Sabres coach Lindy Ruff if he packed a waterproof suit to Philadelphia than on the morning of his team's Game 1 opening-round series against the Philadelphia Flyers here at Wells Fargo Center.
Ruff laughed when reminded what happened in the City of Brotherly Love during Philadelphia's Game 5 clincher in the 2000 playoffs when he was hit with a beverage near the end of the contest.
"I think it was beer," he said with a grin. "The fans here are as great as our fans. It's what is great about the series, great about this time of year. It's fun and there's going to be something to talk about when this series ends. You've got passionate fans on their side, passionate fans on our end. It should be one heck of a series."
How critical is Game 1? Consider the fact in the eight previous playoff series between the teams, the winner of the opener has gone on to capture the series each time.
"We're going to have to weather the early storm they bring in this building and then come out better than they do," Sabres forward Patrick Kaleta said.
This will be the seventh time the series will open in Philadelphia -- the Flyers hold a 4-2 advantage in home playoff openers against the Sabres.
"I think focusing on keeping it simple will be important," Sabres defenseman Tyler Myers said. "They obviously have a lot of firepower up front and many skilled guys. They'll be tough to handle, but if we focus on playing like we did the last three months of the season by keeping it simple, we'll give ourselves a chance."
Myers was referring to fact that despite being 10 points removed from a playoff spot on Jan. 17, the Sabres clawed their way back into the picture to finish the season in seventh place in the Eastern Conference -- the same slot the Flyers were in last year when they began their incredible postseason surge.
The Sabres, in fact, became the first team to overcome a double-digit point deficit to make the playoffs since the St. Louis Blues did it in 2008-09. Under Ruff, the Sabres are 8-2 in Game 1 when opening a playoff series on the road. Buffalo is 13-4 all-time in Game 1 of a playoff series with Ruff working the bench.
"You just try and get in and with the parity in the League today, once you get that shot, everyone feels more confident that you can go into a series and win," Sabres forward Mike Grier said. "Just look at last year, in the first round. Almost all the lower seeds won, especially in the East. The West was a little more top-heavy."
Ruff doesn't believe for a second that his team will show any sign of fatigue now that the playoffs have begun.
"Not at all," Ruff said. "There's quite a lot of excitement in that room. The fact we used a lot of personnel, using four lines, there's no chance we're fatigued going into this series. I do think everything changes once the playoffs start, though. You see a heightened focus from all the players. They're asking questions now that, two months ago, they wouldn't care to ask. And they're doing extra; doing extra faceoff work, shooting, they want to cover every base because they realize you have a seven-game kick at it to win a series and do something special."
That includes goalie Ryan Miller, who will be between the pipes for the Sabres in Game 1. He got into two games to end the season upon his return from an upper-body injury, the first on April 8 against Philadelphia, and finished the regular season with a 2.59 goals-against average, .916 save percentage and five shutouts. In 66 games, the Olympic silver medalist had 34 of his team's 43 victories.
"We feed off of (Miller) a lot," Myers said. "He proved to be the best goalie in the world and a key part to our team. To get him back … it's good to see him healthy and ready to go for this series."
For Myers, a second-year blueliner who got his first taste of the Stanley Cup Playoffs last spring, the second time around will be a little easier, even if it happens to be against the Flyers. The Sabres dropped their opening-round series against the Boston Bruins last year.
"I know last year helped me a lot," Myers said. "Going into my first playoff game last year, I was probably the most nervous I've been all year. But to have that experience under my belt, I feel a lot better going into this series. In the playoffs, there's more preparation on specific teams and you become familiar with tendencies and the way they play a lot more. We're expecting them to be well-prepared for us and we know we're prepared for them."
Follow Mike Morreale on Twitter at: @mike_morreale