Sabres, Kings move up in playoff race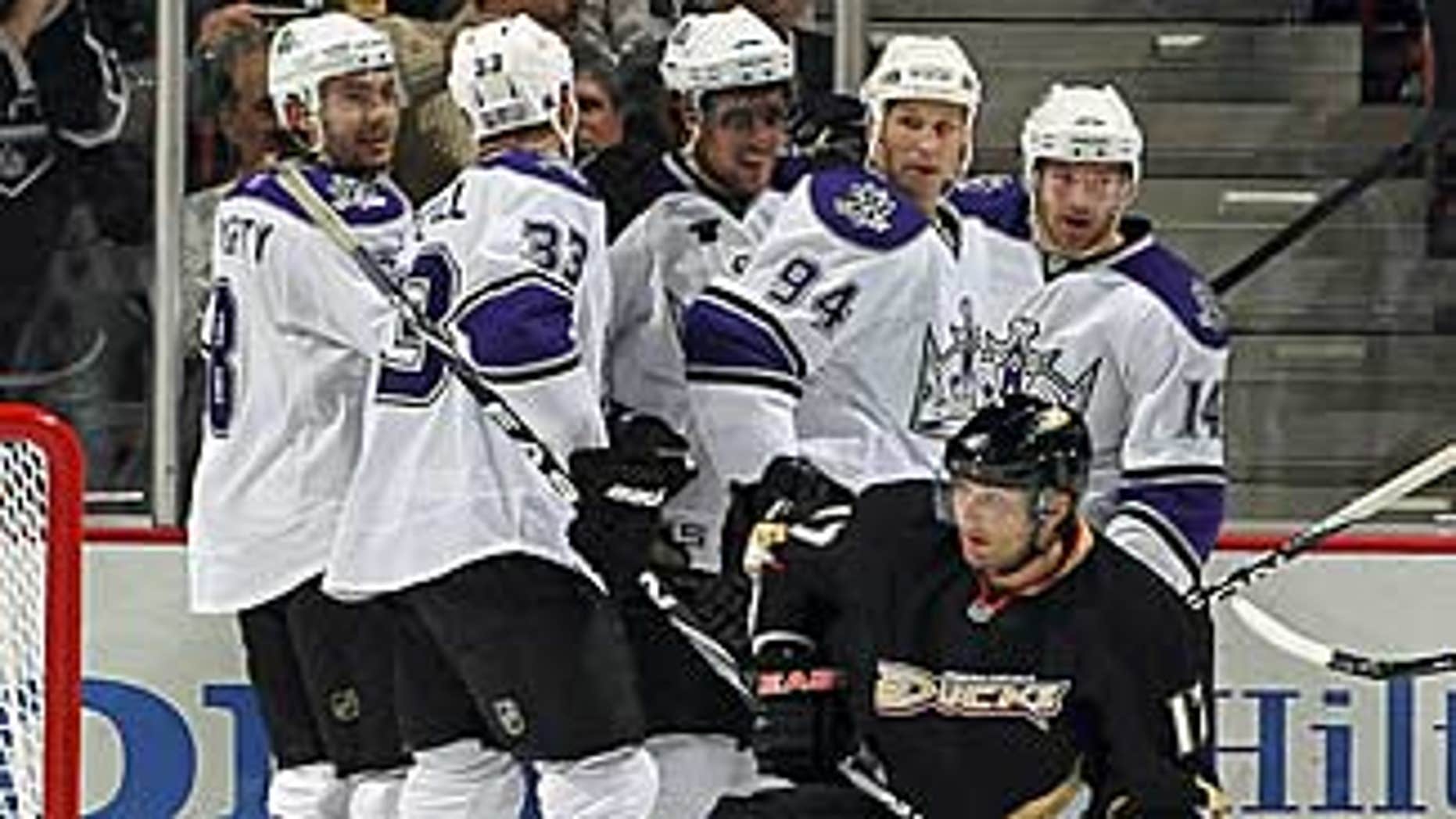 The NHL season is reaching the three-quarters pole, and the playoff races are only getting hotter.
It's too early for anyone to have clinched a postseason berth -- but only a handful of teams appear to be so far off the pace that their playoff hopes have disappeared. More than two dozen teams still have realistic hopes -- and, in some cases, can already start planning for the postseason.
Here's a look at how the races in each conference shape up after Wednesday night's games:
Eastern Conference:
Division leaders:
Philadelphia (84 points) saw its Atlantic Division lead trimmed to six points as Pittsburgh forced overtime Wednesday night before dropping a 3-2 decision to the San Jose Sharks. Philadelphia also now leads the Eastern Conference by seven points due to Tampa Bay's 8-3 win against Phoenix on Wednesday.
Tampa Bay (77 points) closed the gap to seven points as it attempts to overthrow the Flyers atop the Eastern Conference. The Bolts also extended their lead in the Southeast Division to three points over Washington, which was idle on Wednesday.
Boston (75 points) has won the first three games on a six-game trip. The Bruins have weekend dates in Vancouver and Edmonton before the trip ends in Ottawa next Tuesday.
The next five:
Pittsburgh (78 points) had newcomers James Neal and Matt Niskanen in the lineup for Wednesday's overtime loss to San Jose. Already without top centers Sidney Crosby and Evgeni Malkin, the Pens lost Brooks Orpik to a hand injury early in the game. Pittsburgh visits Carolina on Friday.
Washington (74 points) is in the middle of a rare three-day break. The Caps, who've played 61 games, don't take the ice again until the New York Rangers come to town on Friday.
Montreal (71 points), 3-2 winners at Vancouver on Tuesday, will face the Toronto Maple Leafs at the Bell Centre on Thursday night.
The New York Rangers (68 points) have a three-point lead for the No. 7 seed in the Eastern Conference. New York visits Washington on Friday.
Carolina (65 points) now has a three-point lead on Buffalo for the final playoff spot after the Sabres earned a 4-1 win against Atlanta on Wednesday. The Hurricanes host Pittsburgh on Friday night.
On the outside looking in:
Buffalo (62 points) moved ahead of Atlanta in the standings with a huge regulation victory at HSBC Arena on Wednesday. The Sabres continue their homestand on Friday against Ottawa.
Atlanta (60 points) continues to struggle as it dropped to 3-11-4 over its last 19 games with Wednesday's loss. The Thrashers host Florida on Friday night.
Toronto (59 points) was idle on Wednesday. The Leafs will visit Montreal on Thursday night.
Florida (57 points) concluded a quick three-game trip with a 5-1 loss at Ottawa. The Panthers have been outscored 10-2 in their last two games.
New Jersey (56 points) has won eight games in a row after it shut down the struggling Dallas Stars on Tuesday. By going 16-1-2, the Devils have made up two-thirds of the 27-point deficit they faced at midseason. New Jersey visits Tampa Bay on Friday.
Western Conference
Division leaders:
Vancouver (85 points) has the Northwest Division title all but locked up -- the Canucks lead second-place Minnesota by 17 points and have a five-point margin on runner-up Detroit for first place in the Conference. Vancouver hosts St. Louis on Thursday night.
Detroit (80 points) is comfortably ahead in the Central Division as it leads Nashville by 10 points. The Wings host Dallas on Thursday.
Detroit (80 points) is comfortably ahead in the Central Division as it leads Nashville by 10 points. The Wings host Dallas on Thursday
San Jose (76 points) moved into first place in the Pacific Division with Wednesday's 3-2 overtime win at Pittsburgh. The Sharks, winners of five straight, visit Calgary on Friday night.
The next five:
Phoenix (75 points) saw its eight-game winning streak come to a screeching halt on Wednesday night, when it suffered an 8-3 loss at Tampa Bay. The Coyotes also lost possession of first place in the Pacific thanks to San Jose's win at Pittsburgh. Phoenix visits Columbus on Friday.
Minnesota (70 points) has climbed to fifth in the West with a hot February that continued with the Wild's 15th consecutive victory against Edmonton at the Xcel Energy Center on Tuesday. The Wild visit Los Angeles on Thursday.
Los Angeles (70 points) moved up in the standings Wednesday night as it concluded its 10-game road trip with a 3-2 victory at Anaheim. The Kings finished the trip with a record of 6-1-3 as they moved into sixth place in the West. They hope to leapfrog the Wild on Thursday.
Nashville (70 points) has been streaky all season, and the Predators appear to be sliding again, with back-to-back losses to Phoenix and Columbus. Nashville hosts Chicago on Thursday night.
Calgary (70 points) was idle on Wednesday and remains in eighth place in the West. The Flames host San Jose on Friday.
On the outside looking in:
Chicago (68 points) got a much-needed boost from back-to-back wins against Pittsburgh and St. Louis, but the Hawks still have work to do just to earn a chance to defend their Stanley Cup. The schedule is no help -- the Hawks have only nine of their last 22 games at the United Center; on the other hand, they're 18-14-0 at home and 13-9-6 on the road. They visit Nashville on Thursday.
Dallas (68 points) has gone from first place in the Pacific Division to 10th in the conference by losing five in a row and going 1-8-1 in February. Dallas also faces a tough schedule -- a four-game trip out West next week. The Stars visit Detroit on Thursday night.
Anaheim (68 points) was back home to host the Kings after a disastrous two-game swing through the Midwest, and things didn't get any better for the Ducks as they suffered a 3-2 loss at the Honda Center. Anaheim hosts Minnesota on Friday.
Columbus (66 points) looked like it was ready to drop out of the race three weeks ago, but improved to 7-1-1 in its last nine by beating Nashville on Tuesday. The Jackets host Phoenix on Friday before beginning a five-game trip that could make or break their season.
St. Louis (63 points) is hurting after losing to Chicago and the Avs at home on back-to-back games. The Blues head to Western Canada for three games in four days beginning Thursday in Vancouver in what could also be a make-or-break trip.
Colorado (59 points) is 1-8-1 in its last 10 games following Wednesday's 5-1 loss to Edmonton at the Pepsi Center. The Avs will visit Los Angeles on Saturday.