Sabres energized by Pegula's arrival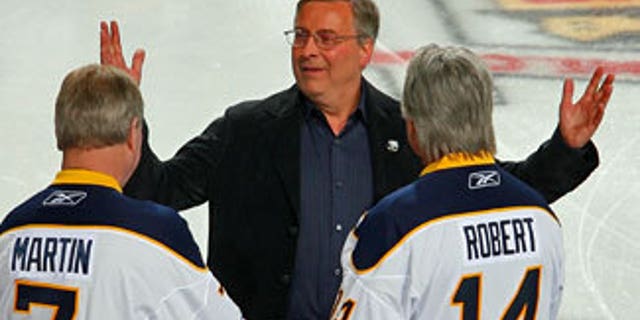 NEW YORK - Four days after Terry Pegula officially became the new owner of the Buffalo Sabres, he had to fight through tears at a Feb. 22 news conference where he passionately said everything a player would want to hear from his new boss.
The billionaire who grew up cheering for the Sabres said money would no longer be an issue, that GM Darcy Regier need not worry about any of the financial constraints that existed while the team was in the process of being sold.
If that was music to Regier's ears, then what Pegula said later must've sounded like a symphony orchestra to the Sabres players.
"Starting today," Pegula said, "the Buffalo Sabres' reason for existence will be to win a Stanley Cup."
The Sabres have answered the call since Pegula's declaration, going 3-0-1 as they make a push to crack the top 8 in the Eastern Conference. The ninth-place Sabres are coming off a 3-2 win against the New York Rangers on Tuesday that kept them to within two points of the eighth-place Carolina Hurricanes.
The Sabres are also three points behind the Rangers, who have played three more games than Buffalo.
An owner can't make saves or score goals -- unless maybe he's Pittsburgh's Mario Lemieux -- but Pegula is already having an effect on the Sabres, who have gained 5 points on the Rangers since Feb. 22.
"Everybody's aiming for higher standards and that's good," Sabres defenseman Jordan Leopold said. "It puts a little more accountability on us. It's been nice. New ownership's been good. Change is good sometimes. I think it's been a good feeling since it's happened and guys have played well as a result."
"His intentions are good and he's a really good guy," said Jason Pominvile, who is signed through 2013-14. "He wants to change a lot of things. Hopefully we do win the Cup because that's what we're all here for. By him coming out and saying that and that money isn't an issue, it makes you want to play for an owner like that."
But can one emotional press conference really give a team a lift coming down the stretch? Thomas Vanek, who is also locked up through 2014, answered with an emphatic yes.
"Sure it can," he said. "When we got to meet him, you can see his passion and the willingness to do what it takes to win. If you have someone like that, it makes it pretty special to the players."
Pegula backed up his talk about making the Sabres a Stanley Cup champion less than two weeks after taking control of the team, placing his stamp of approval on a deal that brought one-time 40-goal scorer Brad Boyes to the Sabres in exchange for a second-round draft pick.
After speaking about his willingness to do what it takes to win, Pegula made his team better at the deadline even though the Sabres haven't been in a playoff position since early October.
"Anytime you can add a player like that and not give up part of the team, I think the team right now is improved," said Pominville. "A lot of rumors were flowing around, but everybody is still here and it's a key part to his team."
Since Feb. 22, the Sabres haven't trailed in any of their four games with their only loss coming in a shootout against the Red Wings. They also showed energy and toughness that's been lacking at times this season in Tuesday's win against the Rangers.
It could just be coincidence, but goaltender Ryan Miller, also under Sabres control until 2014, wasn't willing to dismiss Pegula's influence.
"He has been around a lot. I think anything can rub off, especially when it's good, positive energy," Miller said. "He believes in Buffalo and we have good talented players. There's no reason we can't be a team that competes for the Stanley Cup. But first thing's first -- we have to get into playoff position."
With a win against the Carolina Hurricanes in Raleigh on Thursday, that's exactly where the Sabres will find themselves.
Follow Dave Lozo on Twitter: @DaveLozo