Saban walks out after probe questions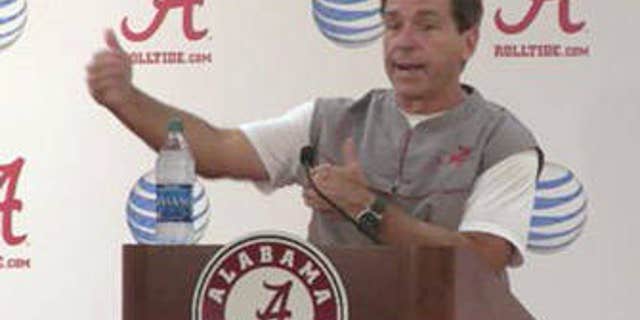 On Wednesday, Yahoo Sports published a story alleging that former Alabama offensive lineman DJ Fluker, along with four other former and current SEC players, received impermissible benefits prior to completing their college careers.
That's important because it could call into question Alabama's 2011 and 2012 national titles, of which Fluker was a part. The story also happened to drop two days before Alabama leaves for Texas A&M, where the Tide will play the biggest game of the college football regular season.
How happy do you think Nick Saban was with this story and its timing?
I said today on my radio show that Saban's press conference at 5:45 central would be outstanding. And it did not disappoint.
Nick Saban did not want to talk about the allegations. He made that clear in the opening.
Reporters, as they were obligated to do, still asked him three times about the story. This made Nick Saban very mad.
You will love this video. It gets really entertaining about three minutes in.
Enjoy.
Video streaming by Ustream
Nick Saban, the press conference gift that keeps on giving.
Oh by the way ... No. 1 Alabama travels to College Station to face Johnny Manziel and No. 6 Texas A&M at 3:30 p.m. ET on Saturday.