Saban tells Tide fans to take a seat!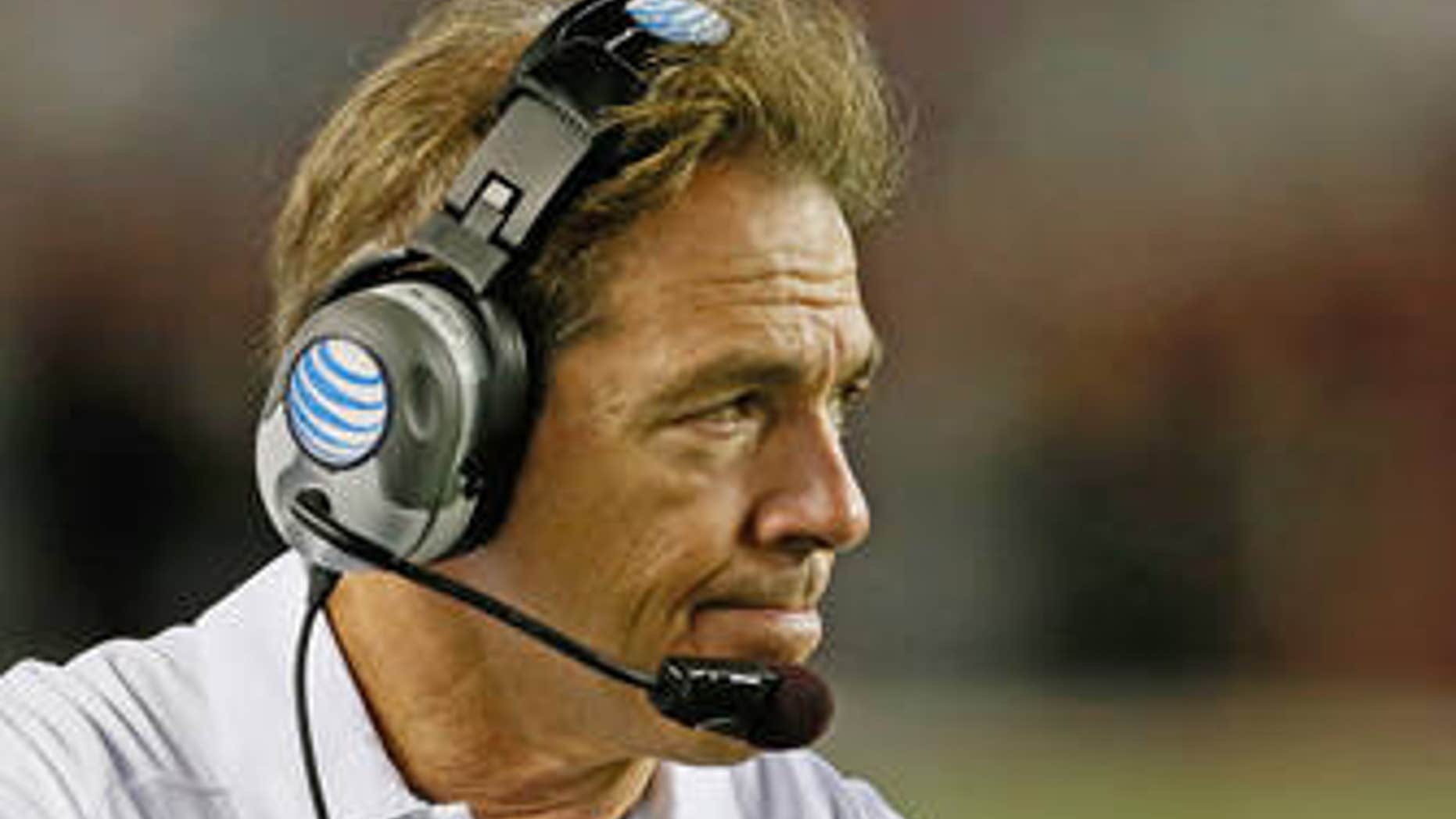 The problem with beating the pants off of just about everyone you play is that fans are bound to leave early when the score gets ugly.
And that's no different at Alabama, where swaths of fans -- particularly students -- have ditched their seats in favor of more fun elsewhere before the final whistle of multiple home games at Bryant-Denny Stadium.
Here are just a couple examples, from wins over Georgia State (45-3), Colorado State (31-6) and Arkansas (52-0) earlier this season:
Alabama student section midway through the third quarter against Georgia State. pic.twitter.com/Zwtkw7OvV6
-- Michael Casagrande (@ByCasagrande) October 5, 2013 Alabama's student section early in fourth with Tide up 11 pic.twitter.com/lyZBgCyzWK
-- John Zenor (@jzenor) September 22, 2013 The Alabama student section has better things to do during the second half. pic.twitter.com/NZVivESPZg
-- Jonathan Biles (@Jonathan_Biles) October 20, 2013 Now, not feeling the need to stick around for the entire game against a badly-overmatched opponent makes sense to most people.
For example, against Georgia State -- a team that is in its first year of FBS play, but is still not even eligible for a postseason bowl -- the score was 38-0 at halftime, and the two-time defending BCS champs, spent the second half making as little an effort to score as possible.
But that kind of logic matters little to Crimson Tide coach Nick Saban, who has a serious bone to pick with fans who scram when games get out of hand -- even when his squad is no longer giving a full effort, itself.
"I've talked about players playing for 60 minutes in the game and competing for 60 minutes in the game," Saban told Al.com . "And, in some kind of way, everybody that choses to go to the game should stay there and support the team for the game."
And if you don't want to stay for four full quarters? Well, Saban doesn't want you there at all.
"Maybe if you're not interested in doing that, you should let someone else go who would really like to go because I have a lot of people who want to go," Saban told the site.
Saban's outrage over a perceived lack of fan support is partly just Saban being Saban, but really, it's all about impressing recruits -- because Alabama has such a hard time with that (and I'm sure the ones they're inviting to take in Georgia State are their top targets to begin with).
"We have lots of recruits there, we like to see an enthusiastic full stadium," Saban told Al.com. "We have a beautiful stadium and one of the nicest venues in all of college football and I think we all should show our appreciation for it by staying and supporting our team for the whole game."
More than 101,000 people showed up to last Saturday's win over Arkansas, so it's not as though fans are ditching the program altogether. It's just that no one wants to see the Crimson Tide drive some cupcake into the ground.
Through four home games, Alabama has outscored opponents 153-9, including a combined score of 77-0 against its two SEC opponents. Surely -- maybe? -- the games will get closer with Tennessee and LSU visiting Tuscaloosa in the next two weeks, and when they do, the recruits will see a full crowd on hand and have plenty to be impressed with.
The original article can be found at FOXSports.com: Saban tells Tide fans to take a seat!.