Saban, Smart both visit 2017 QB Jake Fromm on the same day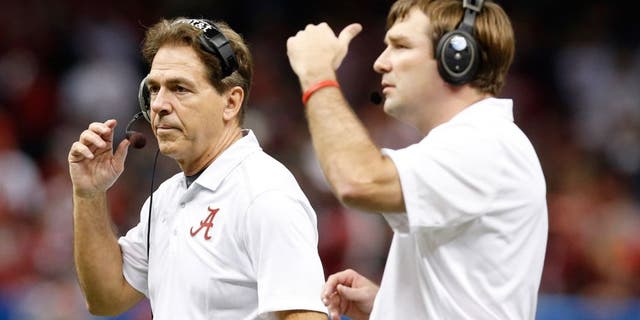 Well this is awkward. Adversaries for the first time in many years, Alabama head coach Nick Saban and Georgia head coach Kirby Smart are now competing head-to-head for some of the most elite prospects in the country. On Tuesday, both coaches visited 2017 Warner Robins, Georgia quarterback prospect Jake Fromm.
Unfortunately, for entertainment purposes, the two coaches were not at the school at the same time. Smart visited the school early in the day, while Saban stopped by later in the afternoon.
While still committed to the Crimson Tide, Georgia coaches are keeping close tabs on the in-state signal caller, as new offensive coordinator Jim Chaney stopped in last week for a visit. The Bulldogs currently do not have a quarterback committed to its 2017 recruiting class.
Former South Carolina head coach Steve Spurrier was so enamored with Fromm's potential, he reportedly told the young quarterback prospect he would coach for six more years if he committed to playing with the Gamecocks last summer.