Saban not happy with 'unauthorized' biography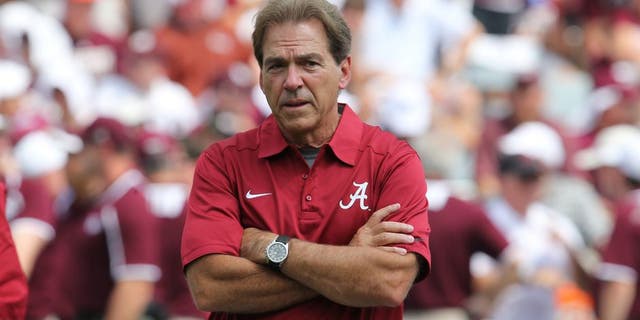 Some excitement has been generated over the past couple of weeks regarding a Nick Saban biography that was released this week by Forbes writer Monte Burke, specifically in regards to the details of Saban's brief flirtation with Texas three offseasons ago.
But Saban, it was made clear Thursday, is not a big fan of this biography. At the conclusion of his media conference after practice, Saban went off on the book's "unauthorized" nature, profiteering purpose and timing, which he considers an unnecessary distraction for himself and his Alabama team. Of course, Saban is historically laser-focused, so that latter complaint shouldn't come as a surprise.
Saban's rant to the media went as follows, per AL.com
"I just want everybody to know that I'm opposed to an unauthorized biography on anybody, if some person that you don't even know (is) trying to profit by your story or someone else's story."
"One of these days, when I'm finished coaching at Alabama, I'll write an authorized book, because there's only one expert on my life and guess who that is -- me. And there won't be any misinformation. There won't be any false statements. There won't be any hearsay. There won't be any expert analysis from anybody else. It will be the real deal. And I'm not really ready for that to happen, and it's a little amazing to me that the timing of all this happening right when we're starting camp. I just want everybody out there and all of our fans to know it's not going to be a distraction to us and it's never going to get discussed again."
"But since I'm not finished yet at Alabama, we're not writing any books yet. But when we decide to write an authorized book, it will have the truth, the whole truth and nothing but the truth."
According to the report, Burke has said that Saban made himself available before the book was started and again after it was completed, although Saban said on July 20 that he had not yet seen the final version.
Burke also reportedly has said that Saban did not indicate that he wanted to keep the book from being published. It seems, though, that his tune has changed with the book's release date having arrived.
(h/t NBC Sports)