Saban: Alabama's Kenyan Drake, Denzel Devall undergo surgery; Ryan Kelly has sprained knee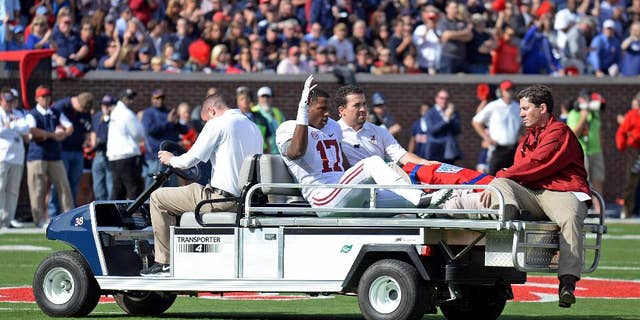 TUSCALOOSA, Ala. – Alabama tailback Kenyan Drake has had surgery to repair a broken left leg and is likely out for the season.
Crimson Tide coach Nick Saban said Monday it could be 8-10 weeks before Drake can start trying to work his way back. He said tailback Derrick Henry sustained a similar injury in spring 2013.
Drake's foot was twisted at a severe angle after a run against Mississippi.
Drake has run for 112 yards and a team-leading four touchdowns. He also has 159 yards and two scores on five receptions, including an 87-yarder against Florida.
Saban also said linebacker Denzel Devall had surgery for an ankle injury but could return in three or four weeks.
Center Ryan Kelly is likely out for a couple of weeks with a sprained knee.