Ryan Vogelsong hits first HR, doesn't enjoy it an iota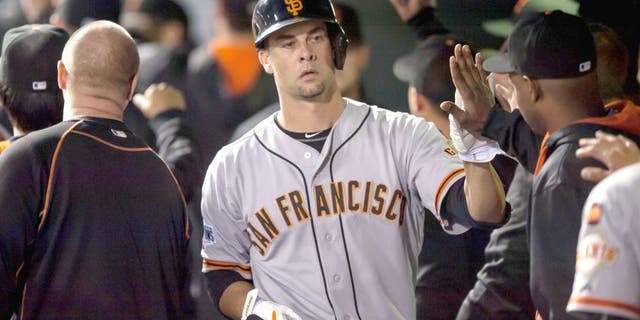 A player is usually filled with glee after hitting his first major-league home run.
He might throw up a fist pump as he rounds first base, don an ear-to-ear grin as he is congratulated by his teammates, or feel an overwhelming sense of pride and relief as he sits in the dugout reflecting on his feat.
Not Ryan Vogelsong.
When the San Francisco Giants starter ripped a two-run home run over the right-center field wall in Coors Field on Thursday for his first career homer, he was hardly impressed.
Instead of partaking in any of the aforementioned expressions of glee, Vogelsong simply modestly trotted around the bases and gave his teammates gentle fist bumps and high-fives, all the while not letting out a smidgen of a smile and resuming business as usual after returning to the dugout.
MLB.com notes that Vogelsong, who is 38, became the oldest player in franchise history to hit his first career home run, a footnote that the right-hander didn't marvel at after the game.
"I'm not enjoying it at all," he said of his first-career home run.
"I was just looking for a ball to hit the other way with a guy on second," he elaborated. "I just put a good swing on it. I didn't know [if it had a chance]. I know I hit it good, but when you don't have one, you don't ever know, I guess."
While his home run brought the score back to 4-2, he unraveled in the bottom of the third, and finished the game surrendering a season-high 11 hits and eight earned runs.
Although Vogelsong's lack of celebration for his home run may seem odd, he is noted for his stone face during games.
Additionally, his reaction could be interpreted as the mark of player who is less interested in his personal feats than he is in the team's accomplishments, and considering the Giants were losing even after Vogelsong's two-run home run, and would go on to lose their sixth-consecutive game in the midst of the NL West pennant race, joy wasn't exactly the emotion that came to mind when the veteran pitcher hit an inconsequential home run.
Joy didn't come to mind when it came time to discuss his pitching after the game, either.
"I just stunk," he said. "I didn't command the heater. Breaking ball was up. I couldn't throw well at all."
(h/t MLB.com)