Ryan Tannehill: Offensive line is 'becoming better each and every day'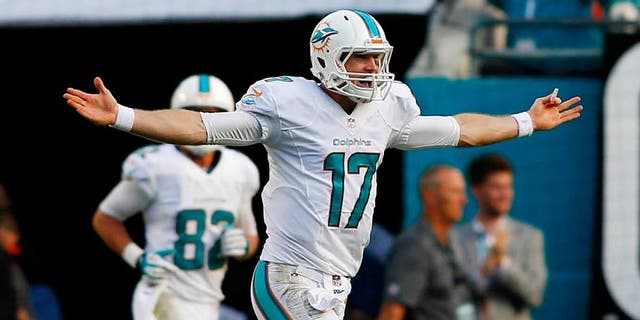 The Miami Dolphins entered the 2015 season with big question marks along the offensive line. Who would start at both guard spots was a major issue, along with Branden Albert's healthy after recovering from a torn ACL.
The Dolphins haven't done much to answer those questions, although Albert's knee seems to be recovering quickly, and Dallas Thomas and Billy Turner haven't struggled as much as many believed they would.
Veteran guard Evan Mathis is still on the open market, but with the way the offensive line is coming together, Ryan Tannehill sounds fairly comfortable with the group they have.
"Our defensive line is one of the best in the league. So for them to go against them every day, it's only going to strengthen their ability," Tannehill told reporters via ESPN. "To come out here and do a great job all day, especially with all of these pressures they're getting, being able to pass them off, [identify] them correctly. I thought they did a great job."
To take a step back, no one is crowning the Dolphins' offensive line as one of the best in the league. They have a long way to go, but getting a vote of confidence from their quarterback is a step in the right direction.
Their next test will come against the Carolina Panthers in the second preseason game on Saturday. To prepare for it, the Dolphins are getting in some practice time against Carolina this week in joint practices. So far, the reviews have been positive with the way they've handled the Panthers' defensive front.
"Yeah, they're definitely becoming better each and every day," Tannehill said. "I sensed it in the beginning that they had some work to do, but the more that those guys play together, the more consistent they get."
(h/t ESPN)