Ryan Lochte cashing in on recent past, signs 2nd post-scandal endorsement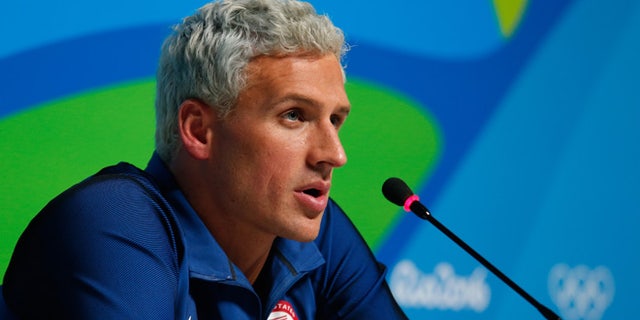 NEWYou can now listen to Fox News articles!
You can understand how extricating oneself from a bad situation might be something much on Ryan Lochte's mind these days.
After his early-morning run-in – along with three other members of the U.S. Olympic swimming team – with a Rio de Janeiro gas station bathroom and armed security guards who demanded he and the others pay for it and the scandal that followed when he characterized the encounter as being robbed at gunpoint, the 12-time Olympic medalist's corporate sponsors decided to end their relationships with him.
At least the swimmer is getting to cash in on his recent past, teaming up with Robocopp, a company that makes handheld alarms that, according to the company, "can get you out of a bad situation."
"I've been traveling a lot lately. We all like to have fun, but it's a good idea to stay safe. I don't go anywhere without Robocopp," Lochte, 32, said in a video posted on Instagram. "It's this tiny device — all you do is pull the pin, and it releases a startling alarm that can get you out of a bad situation."
Jill Turner, a company spokesperson, confirmed to NBC News the endorsement deal, saying they decided to team up with Lochte because he "is and will likely be the best swimmer this country has produced." Never mind that Michael Phelps, Lochte's friend and rival, owns 28 Olympic medals – 23 of them golds.
This marks the second post-scandal endorsement for Lochte. Last week, the swimmer scored a deal with Pine Bros. Softish Throat Drops.
In a press release, the company's CEO, Rider McDowell, asked people "to be a little more understanding – even forgiving – of the young American swimmer."
"We all make mistakes, but they're rarely given front-page scrutiny," McDowell said in a statement, according to E! News. "He's a great guy who has done incredible work with charities. I'm confident that Pine Bros. fans will support our decision to give Ryan a second chance."
The new endorsements came just days after Lochte was dropped by all his major sponsors for lying to Brazilian police after the incident at a gas station.
On Tuesday, it was announced that Lochte will be in the upcoming season of "Dancing with the Stars."
Speaking on ABC's "Good Morning America," the swimmer admitted he lied about having a gun held to his head at a Rio de Janeiro gas station, where he and three other American swimmers had stopped to use a restroom.
He also said he has offered to reimburse fellow swimmer James Feigen for a fine of nearly $11,000 he paid to resolve legal issues and leave Brazil.
Like us on Facebook
Follow us on Twitter & Instagram