Ryan Blaney unveils new sponsor, paint scheme for Michigan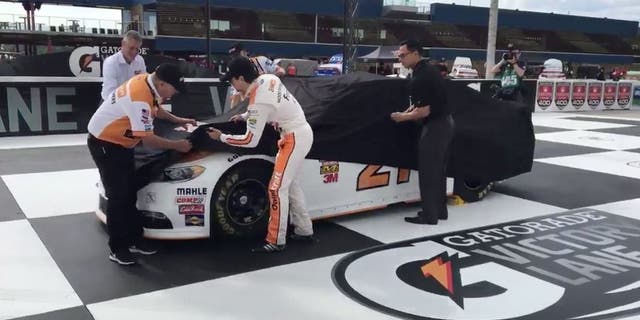 NEWYou can now listen to Fox News articles!
BROOKLYN, Mich. -- NASCAR's newest first-time winner is recovering from a busy week after winning last Sunday at Pocono Raceway.
Coming off his first career Monster Energy NASCAR Cup Series victory, Ryan Blaney is relieved to get back to work as he prepares for Sunday's Firekeepers Casino 400 at Michigan International Speedway (2 p.m. ET, FS1).
"Honestly, it is nice to be back at the race track after this week of doing all the media things and it kind of distracts you from the task at hand," Blaney said Friday morning at MIS. "It is nice to be here back with the team and have a new little look with the Wood Brothers car."
Following the popular win, Blaney discussed just how many people got ahold of him after the triumph.
"With the text messages, I didnt get back to my phone, I left it in my bus before intros," Blaney said. "I had about a 45-minute drive to the airport and then sitting on the plane for awhile I was able to get through them all. It was a little under 200. I was able to get through them all before we took off. I was proud of that to be able to sift through them all."
But before getting to all the messages from others, Blaney made it a point to get ahold of his dad first -- former Monster Energy Series driver Dave Blaney.
"I called my Dad first," Blaney said. "Before I talked to anyone else I wanted to talk to him."
Among all the congratulatory messages Blaney received, though, there was one that stuck out to him the most.
"I think the coolest thing I got wasnt a text but Mario Andretti tweeted at me," said Blaney. "That was really cool. He said something about us and the Wood Brothers team winning. That was the neatest thing I saw.
After scoring the first victory for the Wood Brothers since 2011, Blaney will be sporting a brand new sponsor and paint scheme as Omnicraft Auto Parts will jump on board the No. 21 Ford Fusion for the Michigan race weekend, as well as Kansas Speedway in October.
Blaney was on hand Friday morning in Victory Lane at Michigan to unveil his new orange-and-white ride.
"It's great to bring something a little bit new to the race team and even though Omnicraft is a part of Ford and Motorcraft it is something completely different," Blaney said. "Motorcraft is strictly Ford and Lincoln parts but Omnicraft covers everything. You can get it for any make or any vehicle. That is great and it is widening their expansion and covering all sides of it."
Locked into the playoffs with his Pocono victory, Blaney now has eight playoff points to his credit with 12 races left in the regular season.
Rusty Jarrett | Rusty Jarrett LAT Images www.latphoto.co.uk