Ryan Blaney scores popular NASCAR win for Wood Brothers Racing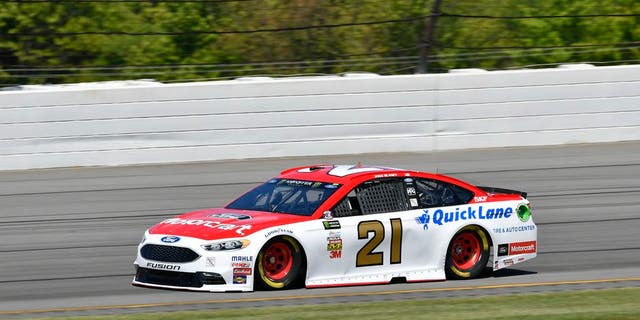 NEWYou can now listen to Fox News articles!
Sometimes, silence truly is golden.
Despite having a team radio that did not work properly in his No. 21 Wood Brothers Racing Ford, Ryan Blaney earned the first Monster Energy NASCAR Cup Series win of his young career Sunday at Pocono Raceway.
Blaney passed Kyle Busch with 10 laps to go and then had to hold off Kevin Harvick over the final laps to go to Victory Lane in the Pocono 400. Harvick put the pressure on in his No. 4 Stewart-Haas Racing Ford, but could not make the winning pass on the final lap.
It broke a 122-race winless streak for Wood Brothers Racing, which last won a race when Trevor Bayne scored an upset victory in the 2011 Daytona 500.
Busch was left disappointed -- again -- after leading a race-high 100 laps. He faded to ninth by the finish and still has not won a race yet this season.
Harvick finished second, with Erik Jones, Kurt Busch and Brad Keselowski rounding out the top five.