Ryan Blaney hopes to keep adding to Wood Brothers Racing history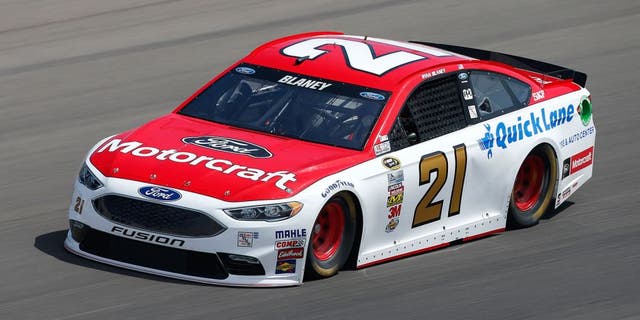 Ryan Blaney has an understanding of NASCAR history that is unique for someone only 22 years old.
Then again, most 22-year-olds don't drive the No. 21 car for Wood Brothers Racing in the Sprint Cup Series.
So when Blaney was able to bring home the No. 21 Ford in sixth place in Sunday's Kobalt 400 at Las Vegas Motor Speedway, he grasped right away that it was "very significant." Despite being the oldest NASCAR team in business, Wood Brothers Racing is operating without one of the coveted ownership Charters NASCAR granted to 36 teams prior to this season -- so nothing, not even a spot in the Sprint Cup field each week, is guaranteed.
"This was very significant," Blaney said after the race. "Especially after Atlanta last week, getting spun out on the last lap. (That) kind of got us down a lot. To come here and have a solid run all day really ups the spirits. This team is working very well together."
Blaney appeared headed for a top-15 finish in Atlanta, only to get wrecked from behind on the green-white-checkered finish, relegating him to 25th.
Blaney is attempting to become the first driver since Ken Schrader in 2006 to run a full season in NASCAR's top series for Wood Brothers Racing. But without the Charter, the team must compete for one of four "open" positions in what will be a maximum field of 40 cars each week.
With only 39 teams showing up each of the last two weeks, making the race hasn't been a problem. But finishing it the way Blaney wanted to was until Vegas. Blaney ran 16 Cup races for the Wood Brothers last season, scoring two top-10 and one top-five finish -- a career-best fourth at Talladega last spring.
"We kind of had a trial run last year running part‑time," said Blaney, who opened this season by racing his way into the Daytona 500 and finishing 19th after starting seventh. "Now we brought in some new personnel this year.
"They've done a great job since Daytona. But just reps at the racetrack and consistency there, they've been doing a great job. (Crew chief) Jeremy Bullins is doing a fantastic job also."
Blaney added that a close technical alliance with Team Penske is helping his team be competitive, as he will enter this Sunday's race at Phoenix a respectable 14th in the driver points standings. Team Penske drivers Brad Keselowski and Joey Logano finished 1-2 in last Sunday's race at Las Vegas.
"Both our organizations are working side-by-€'side. It definitely showed today," Blaney said after the race. "It's a big, big accomplishment for the Wood Brothers team and hopefully gives us some good momentum for Phoenix."