Ryan Bader moves closer to title shot with win over Rashad Evans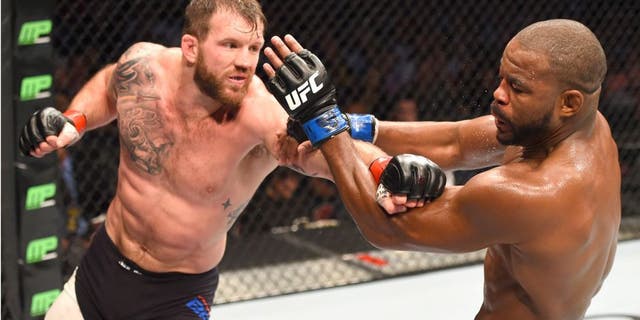 NEWYou can now listen to Fox News articles!
Ryan Bader wanted a signature win to inch him closer to an eventual UFC title shot, and he put on a complete performance to shut out Rashad Evans on Saturday night to pick up a unanimous decision victory over a former light heavyweight champion.
Bader has continued to improve over his win streak while building a strong standup game, highlighted by a nasty jab that punished Evans all night.
Despite a nearly two-year layoff, Evans wasn't tentative when engaging with Bader early, but he just couldn't find a home for his punches.
Bader managed to land a few more shots with better accuracy that seemed to make the difference through round one.
It appeared the start of the fight gave Bader more confidence as he opened up the second round with a hard left hand followed by a right before he took Evans to the mat with a driving double leg takedown.
Evans tried firing back with his big overhand right, but Bader's counter jab just continued to pop the former champion in the eye repeatedly throughout the round. Evans' right eye started to swell, but that didn't stop him from landing his best punch with a big right hand blasting Bader in the jaw.
Bader didn't flinch before defending a takedown attempt as the round came to an end.
The left jab from Bader continued to be his best weapon in the final five minutes while Evans just couldn't time his punches enough to land on target.
With the striking game not working in his favor, Evans eventually looked for a clinch against the cage but all he got for his trouble was a clubbing elbow from Bader as they separated back to the middle.
Bader snapped off a few more jabs and one more big takedown before the round and the fight came to an end.
While he didn't get the finish he was after, Bader still managed to put together a technically sound striking attack to better Evans over every round until the fight was over. Bader got the shutout from the judges with 30-27 scores across the board.
The win moves Bader to 5-0 over his last five fights as he takes one more step towards his dream of fighting for a UFC title in the near future.