Ryan Bader: It looks like I have to beat everyone in the top 5 to get a title shot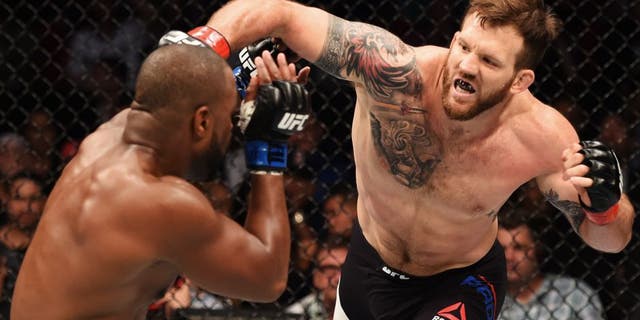 HOUSTON, TX - OCTOBER 03: (R-L) Ryan Bader punches Rashad Evans in their light heavyweight bout during the UFC 192 event at the Toyota Center on October 3, 2015 in Houston, Texas. (Photo by Josh Hedges/Zuffa LLC/Zuffa LLC via Getty Images) Josh Hedges/Zuffa LLC
Ryan Bader may have to travel the toughest road of any contender in history to finally fight for a UFC title.
By most accounts, Bader should have already fought for the belt after defeating Phil Davis this past January to move to 4-0 in his last four fights, but the UFC opted to give Alexander Gustafsson another shot despite the fact he was knocked out by Anthony Johnson in his last outing.
Bader eventually defeated Rashad Evans at UFC 192, but the return of former champion Jon Jones nixed his title hopes once again. Now Bader is set to face Johnson on Jan. 30 in New Jersey, in his fifth consecutive fight against an opponent ranked in the top 10.
"It's more palatable that it's Jon Jones coming back and getting it than the whole (Alexander) Gustafsson situation coming off a knockout loss and all that," Bader told FOX Sports.
"For me, it looks like I've got to beat all these guys in the top five to get a shot. For me, having a big main event on FOX and fighting Anthony Johnson and he's ranked No. 1 and that's where we want to be. Obviously, I wanted to title shot but that's not happening. The next best thing is this fight."
Considering Johnson is ranked No. 1 and Bader No. 3, it would seem logical that the winner of this fight would face the champion after Jones faces Daniel Cormier in 2016.
At this point, however, Bader is tired of playing the "what if" game, and he's learned the hard way that there's no such thing as a guarantee in the UFC.
"It goes back to, for me, I'm not really worried about it anymore. Obviously, I want it and that's my goal to win the title but I'm done thinking about it," Bader said. "I thought about it the last couple of fights and all last year and it hasn't happened yet so now it's just about beating the next guy in front of me and that's Anthony Johnson.
"I have no idea if I'm getting the next title match. They might do a rematch, they might do Jones vs. Gustafsson 2, so who knows for me. From my perspective, I go out there and beat Anthony Johnson I'll literally go through the whole top ten and for me that's validation right there."
If Bader gets past Johnson in January, he will have undoubtedly done more than enough to justify his spot as the true No. 1 contender. While that doesn't numb the sting getting passed over twice in the past year, there's still something special about making that kind of run through a tough 205-pound division.
Few fighters have ever faced a murderer's row of opposition like Bader will before receiving a title shot, but when it's all said and done, he'll know he's earned his spot atop the sport.
"It would be that much sweeter to go through all these guys and say 'look at my resume'. Look at my last five fights. From Ovince Saint Preux through Anthony Johnson, that's the way I'll look at it," Bader said.
"When it actually does happen and I do win the title, look at what I did and who I went through to get there. I didn't get a title shot off a loss. I didn't get thrown in that because that's what they wanted. I literally went through the entire top 10."