Ruzicka shatters Extraliga playoff scoring record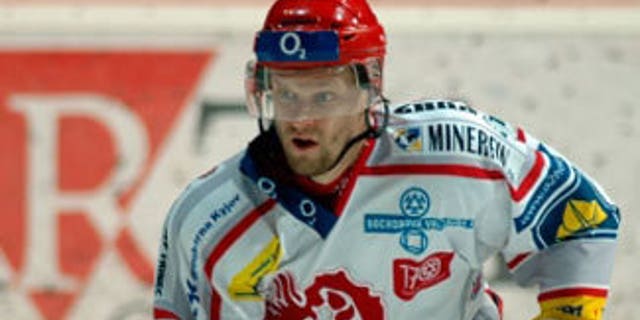 If there was any question whether late-blooming Martin Ruzicka has arrived as a top star in the Czech Extraliga, the 25-year-old forward has answered it emphatically. The league's fifth-leading scorer during the regular season with 24 goals and 50 points in 51 games has elevated his game to a new level in the playoffs. In just 15 postseason games, he has set a new league playoff record with 30 points (15 goals, 15 assists). The previous record of 26 points in 13 games was set by Zigmund Palffy in 1992.
Ruzicka surpassed the record in the first game of the Czech Extraliga finals series between his HC Oceleri Trinec (Trinec Steelers) and HC Vitkovice Steel. In that game, won 5-2 by Trinec, Ruzicka opened the scoring for his club with a goal that broke Palffy's 19-year-old record. Later, he contributed the primary assist on a goal by former NHL center Radek Bonk.
To date in the playoffs, Ruzicka has registered at least one point in every game but one. He was held off the score sheet in Game 3 of Trinec's six-game semifinal series against Slavia Prague. Ruzicka scored goals in all six quarterfinal games against HC Litvinov, racking up 10 points in the series. Against Slavia, he rebounded from his pointless game with a 4-goal explosion in Game 4 and then had a goal and 2 assists in Game 5; he finished that series with 8 goals and 7 assists. Thus far, HC Vitkovice has not been able to slow him down, either.
"It's nice to set the record," Ruzicka told the Czech press after the record-setting game. "At the same time, I must admit that I've had some lucky bounces go in the net for me. The most important thing is that we win three more games. That's the only way the record will really be satisfying."
He waited until late in Game 2 to get on the score sheet. With 1:01 left in the third period of a scoreless game, Ruzicka drew the lone assist on Vaclav Varada's game-winning goal. Twenty-one seconds later, Ruzicka added an assist on an empty-net goal by Martin Adamsky to seal a 2-0 win and a 2-0 series lead for Trinec.
Ruzicka hardly is an overnight sensation in the Czech hockey world. After cutting his teeth in the junior-hockey programs of HC Kladno and Sparta Prague -- where he was an above-average player but far from a prodigy -- he opted to come to North America to play junior hockey in an effort to increase his visibility to NHL scouts and gain exposure to the small-rink game and the English language.
He spent two seasons (2003-05) in the Western Hockey League with the Everett Silvertips (4 goals, 16 points in 68 games) and Lethbridge Hurricanes (5 goals, 10 points in 57 games). Ruzicka never was chosen to represent the Czech Republic at the World Junior Championship and went undrafted by NHL teams. As a result, the 5-foot-11, 175-pound center realized that his hockey future lay at home in the Czech Extraliga -- if he was good enough to make it.
At age 20, Ruzicka returned to the Czech Republic to play for Sparta Prague. He made his Extraliga debut during the 2005-06 season, registering 1 assist in 29 games. During the season, he was loaned to minor-league club HC Berounsti Medvedi, for whom Ruzicka contributed 2 assists in 13 games.
The following season, Ruzicka gained an opportunity for more ice time when he transferred from Sparta to HC Znojemsti Orli. He started 51 Extraliga games in 2006-07 and worked his way up from the fourth line to finish with 9 goals and 7 assists. Over the next two seasons, he played on all four lines and scored 10 goals each season.
Last season, Ruzicka joined Trinec and began to blossom into stardom. He had 23 goals and 47 points during the 2009-10 season and contributed 4 points during Trinec's otherwise disappointing five-game stint in the playoffs. He also achieved an important personal milestone when he made his international hockey debut for the gold-medal winning Czech national team at the 2010 World Championships. Although he failed to register a point in eight games, he was happy just being part of the team.
"It was a thrill to celebrate the World Championship and beat (two-time defending gold medalist) Russia in the gold-medal game when no one thought we could win," Ruzicka told the Czech media. "It showed that anything is possible."
Now established as one of the fastest rising talents in the Extraliga, Ruzicka enjoyed a stellar 2010-11 regular season for the first-place Steelers. He was the leading scorer on a club that features former NHL forwards Bonk (14 goals, 39 points) Varada (12 goals, 37 points) and Vojtech Polak (15 goals, 36 points) and Ladislav Kohn (7 goals, 18 points) as well as former NHL defenseman Lukas Krajicek (6 goals, 20 points, plus-22).
As it has turned out, Ruzicka's magical regular season was just a precursor to a playoff run for the ages.