Rutgers University football player claims he was bullied by coach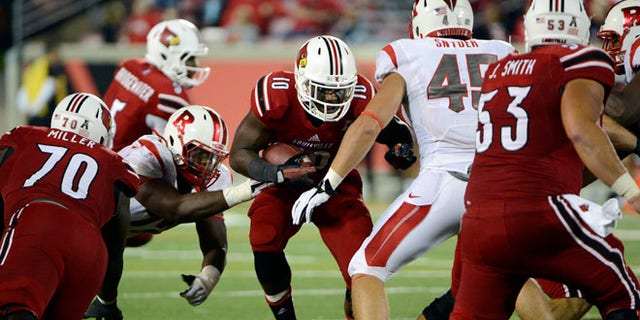 A New Jersey family is calling for an investigation of a Rutgers University football coach over an alleged bullying incident in which the coach berated a scholarship player during a study hall and threatened to head-butt him.
NJ.com reports Mark and Clarice Tyree say Rutgers Defensive Coordinator Dave Cohen established a pattern of verbally abusing their son, Jevon Tyree – a defensive back – during practices and team functions before their relationship escalated into threats of violence during a study hall in the spring.
"He was just trying to really make me feel as if I was soft," Jevon Tyree told NJ.com. "He got all up in my face. Coach Cohen has a lisp, so he was in my face, telling me he'll head-butt me, and he was kind of spitting in my face as he was saying it. I was just pulling my head back, looking at him like, 'Is this guy out of his mind? Is he crazy?"
Following the incident, Jevon Tyree – a touted Garden State high school recruit - said he saw his role significantly diminished, until he requested the revocation of his scholarship – and an exit from the team last week.
NJ.com reports Mark and Clarice Tyree have previously met with Cohen, who they say acknowledged the study hall incident, as well as Head Coach Kyle Flood on Sept. 16. Flood, they reportedly said, told them he disciplined Cohen, but refused to divulge the defensive coordinator's punishment, calling it an, "in-house" matter.
Mark Tyree has since petitioned for a meeting with University Athletic Director Julie Hermann, who he says has rebuffed him. Hermann has – by many accounts – a checkered past, herself, when it comes to such issues.
The Star Ledger of Newark reported after her Rutgers hiring this year Hermann was accused by former players she coached at the University of Tennessee women's volleyball program of "mental cruelty."
A letter signed by 15 players said Hermann made their lives "unbearable," and called them, "whores, alcoholics and learning disabled." According to the Star Ledger, Hermann, who has served the past 16 years as an assistant to the Louisville Athletic Director, simply walked out the room and said she would never coach them, again.
The events concerning Tyree come the same month that the curtain was – to some degree- pulled back on bullying in NFL locker rooms, after Miami Dolphin offensive lineman Jonathan Martin left the team and sought medical help after a campaign of slurs and threats from his teammate, Richie Incognito.
The Tyree incident also echoes an ugly, and recent, chapter in Rutgers University athletics involving the bullying of players by Mike Rice, the former head coach of the men's basketball team. Rice was fired in April after a video emerged showing him physically and verbally abusing players during practice, and even throwing basketballs at them. The ensuing scandal also cost Hermann's predecessor, Tim Pernetti, his job, as well.
Reportedly said Mark Tyree of Cohen – and this latest scandal at Rutgers, "I really think disciplinary action should happen, almost to the point where (Cohen) should get fired. I really do. That's how bad it is, especially for the damage he's done to Jevon."