Rutgers AD ruins students' tailgate after onstage beer chug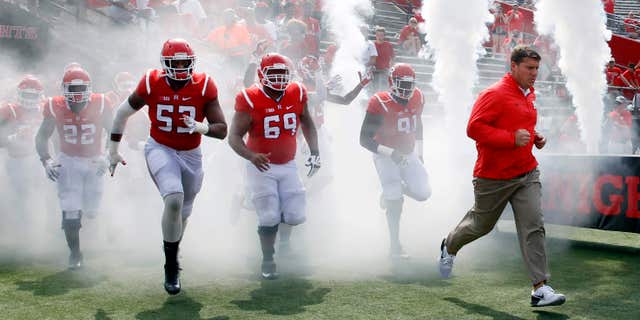 "I am of age. If they card me, it's OK."
Little did Rutgers athletic director Patrick Hobbs realize his sudsy sip before this weekend's football game would be far from OK — and actually prompt the school to can a tailgate zone they had just cracked open at the start of the season.
Before the Scarlet Knights hosted New Mexico on Saturday, Hobbs climbed up on stage with the intention of calming down the tailgate crowd and reminding the students to respect the police. When a student from the crowd handed Hobbs a beer, he initially declined — "I can't drink that right now" — before giving in to the peer-pressure chug-chug-chug chants and causing an uproar in the school's athletic department once the video went viral.
Rutgers launched a student tailgate zone called "The Alley" at the start of the season to keep student drinking at bay, and, ironically, it was the school's own AD who prompted the administration to shut down the event over safety concerns.
"My first concern is always for the safety and well-being of our students," Hobbs told NJ Advance Media in defense of his actions. "Anyone who was at the [student tailgate] Saturday knows that I was acting to ensure that.
To add insult to injury, Rutgers police chief Kenneth Cop said the tailgate was a non-issue before Hobbs hopped on stage, with just eight total citations issued.
Click for more from the New York Post.