Russia's elite pairs skaters look to return country to premier spot in sport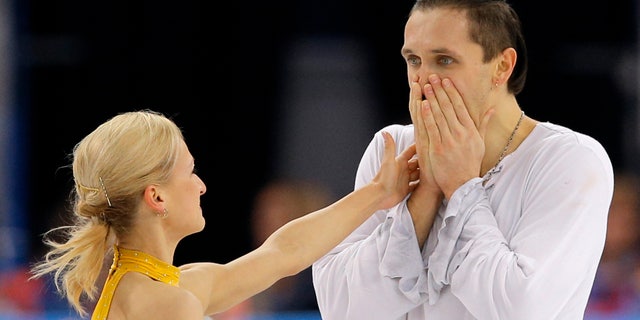 SOCHI, Russia – Tatiana Volosozhar and Maxim Trankov won the Olympic gold medal in pairs figure skating Wednesday night as Russia took the top two spots to reclaim its dominance of the sport.
Ksenia Stolbova and Fedor Klimov had a near-flawless free skate to move up from third after the short program and capture silver in front of the ecstatic home fans.
Volosozhar and Trankov scored 152.69 points to finish with 236.86, 18.18 ahead of their teammates.
Four-time world champions Aliona Savchenko and Robin Szolkowy of Germany had to settle for bronze for the second straight Olympics.
Russia or the Soviet Union had won gold in 12 straight Olympics in the event before the streak ended four years ago, when the Russians failed to take home any pairs medal from Vancouver. Volosozhar and Trankov rose to the top of the sport at the perfect time, winning the 2013 world championship.
Skating to "Jesus Christ Superstar," they had a few small bobbles Wednesday. But with a lead after a near-flawless short program and the difficulty of their elements, they knew when they finished the program without any big mistakes that gold was in their grasp.
As Russian flags waved across the stands, he slid on knees across the ice like a soccer player celebrating a goal, and she buried her face in her hands, the tears flowing.
The two Russian pairs also won gold in the team event.
Stolbova and Klimov handled the free skate for Russia on Saturday and looked sharp, declaring themselves as medal contenders. They were even better Wednesday in their program to "The Addams Family."
The music is mostly hauntingly beautiful, though it does include a brief snippet of that famous TV theme song. At the end of the program, when she must be exhausted, they do a throw triple salchow, but she landed it effortlessly.
Szolkowy fell on a jump in the free skate for the second straight Olympics. He tumbled to the ice on a triple toe loop on their first side-by-side sequence Wednesday.
They finished nearly three points behind Stolbova and Klimov. Pang Qing and Tong Jian, the 2010 silver medalists, were fourth.
Four years ago, the U.S. had its worst showing ever in pairs, with a 10th- and 13th-place finish. The performance in the standings was only slightly better this time: two-time national champs Marissa Castelli of Rhode Island and Simon Shnapir of Massachusetts took ninth, while Felicia Zhang of New Jersey and Nathan Bartholomay of Pennsylvania moved up to 12th from 14th after the short program.
But it was a much more encouraging showing this time, with both pairs skating four solid programs despite coming in with little experience in major international competitions.
Castelli and Shnapir also won a bronze medal in the team event. She landed upright on their throw quad salchow Wednesday, though she stepped out. That still earned them big points, and they set a personal best in international competition with 120.38.