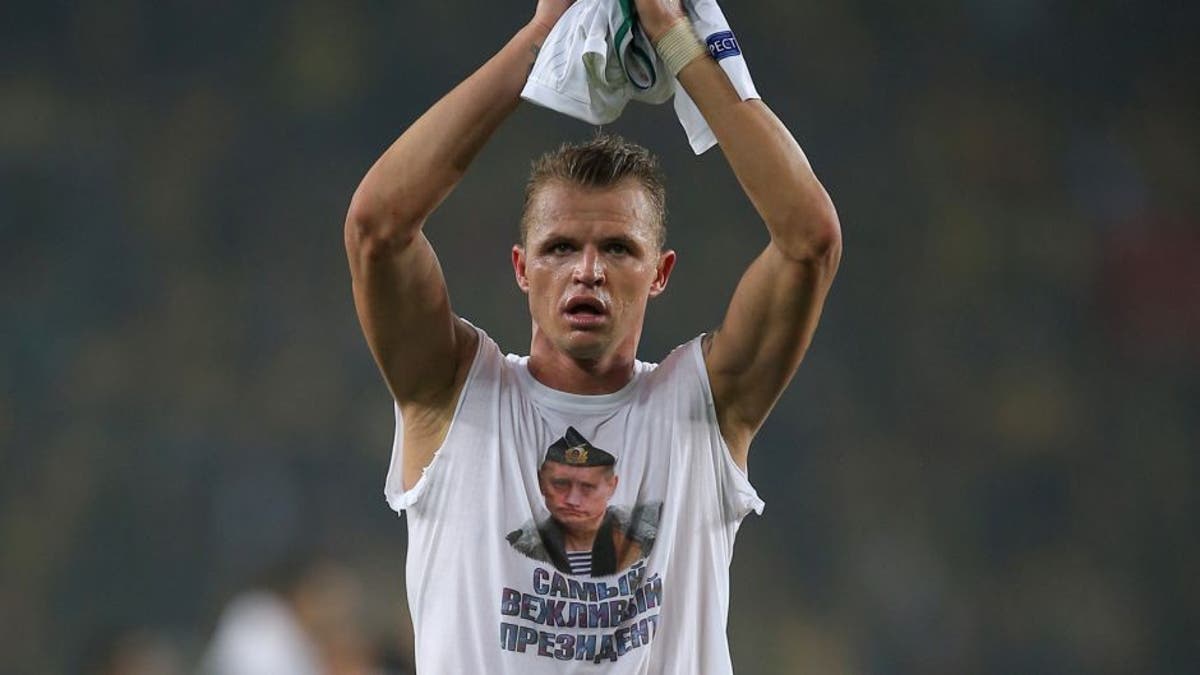 ISTANBUL --
European soccer's governing body charged Russian club Lokomotiv Moscow and one of its players with improper conduct Wednesday for revealing a picture of Russian President Vladimir Putin on his t-shirt after a politically charged game in Turkey.
UEFA rules prohibit political statements at its matches and the laws of football ban players from revealing images and slogans on underclothing.
Lokomotiv player Dmitri Tarasov took off his team shirt to reveal the Putin t-shirt after his team lost to Turkish side Fenerbahce 2-0 in Istanbul on Tuesday in the Europa League.
Emblazoned beneath the image of Putin wearing a Russian navy cap were the words in Russian: ''The most polite president.''
UEFA said its disciplinary panel will judge the case on March 17.
Relations between the countries have been tense since November when a Russian warplane was shot down after it violated Turkey's border near Syria.
Tarasov later defended his behavior to Russian agency R-Sport:
''It's my president. I respect him and decided to show that I'm always with him and prepared to give my support,'' the 28-year-old Russia international said. ''What was written on that shirt was everything that I wanted to say.''
Tuesday's match was the most high-profile meeting of Russian and Turkish teams since UEFA rejected calls last year to separate the two countries in competition draws.
Russia and Turkey avoided each other in the draw for the 2016 European Championship, which takes place in France this summer.
But Lokomotiv and Fenerbahce were paired in the Europa League round of 32. The return leg match will be played in Moscow on Feb. 25.
Also Tuesday, bottles were thrown at Lokomotiv's team bus as it headed to the Sukru Saracoglu Stadium where the match was played. Turkish police said three people it detained were drunk, and local police said the attack was by Fenerbahce fans.