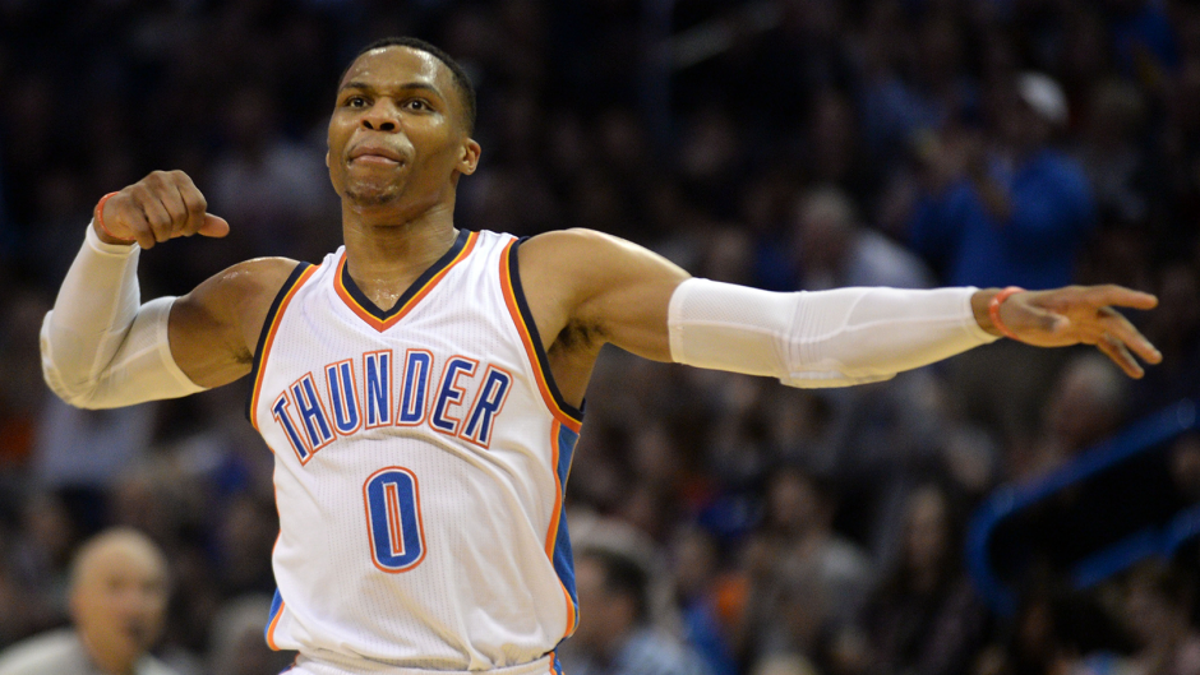 Russell Westbrook and LeBron James have the same number of career triple-doubles, but if you were to illustrate their proximity, you might picture Russ rushing to the hoop and LeBron backpedaling like crazy, about to fall out of the picture.
Westbrook racked up his 44th career triple-double and seventh of the season Saturday night, with 17 points, 15 assists and 13 rebounds in a win over Detroit. It was one night after he went for 36, 18 and 12 in an OT win over Denver.
Westbrook, who's averaging 9.94 rebounds per game, was just one board away from averaging a triple-double so far this season -- something that only Oscar Robertson has done over the course of a whole season, and something that the entire NBA is watching for from Westbrook.
And while James has been almost as prolific this season, averaging 23.5 points, 9.5 assists and 8.2 rebounds, the smart money is on Westbrook. As ESPN.com's Royce Young points out, he's matched James' 44 career triple-doubles in 395 fewer games. At the pace Westbrook is on, James will be hard-pressed to keep up with him as he takes aim at Larry Bird (59) and Wilt Chaimberlain (78). And James could be retired while Westbrook chases Jason Kidd (107), Magic Johnson (138) and the Big O, who has a staggering 181.
(How many is that? Basically, adding Westbrook's total so far to Magic's career total. That's all.)
However, when it comes to playoff triple-doubles, Westbrook has some catching up to do: He has just five while James has 16. And with LeBron making the Finals six straight seasons and Russ carrying a Thunder team that's just trying to make the playoffs, there's no guarantee Westbrook will win that one.