Russell Westbrook says he has an idea which Rockets were laughing at one of his teammates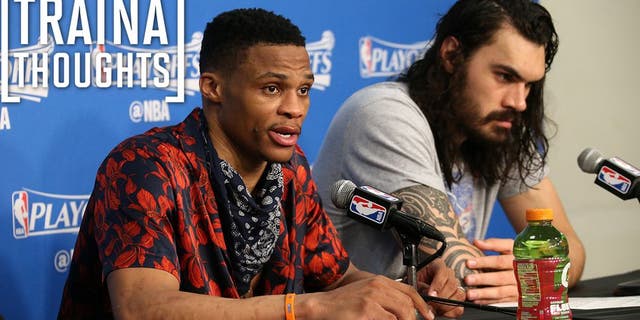 NEWYou can now listen to Fox News articles!
Russell Westbrook has been playing a lot of defense lately, but not the type were used to seeing on the court. A day after Westbrook got into a testy exchange with a reporter while defending his supporting cast, the MVP candidate was back at it Monday.
Westbrook was asked about an incident that occurred late in the Thunders 113-109 loss, in which Rockets players were caught on camera laughing at Andre Roberson as he struggled at the free-throw line.
Westbrook admitted he did not see the sequence but offered his best guess as to who was likely laughing.
"Probably the guys who don't play are the ones over there laughing, if I had to guess," Westbrook said.
It appeared a number of players on the Rockets got a kick out of seeing Roberson, who is 2 of 17 from the line this series, struggle late in the fourth.
The Thunder have to hope Roberson snaps his funk at the line soon if they want to extend a series in which they trail 3-1.