Russell Westbrook outduels James Harden in instant classic as Thunder win Game 3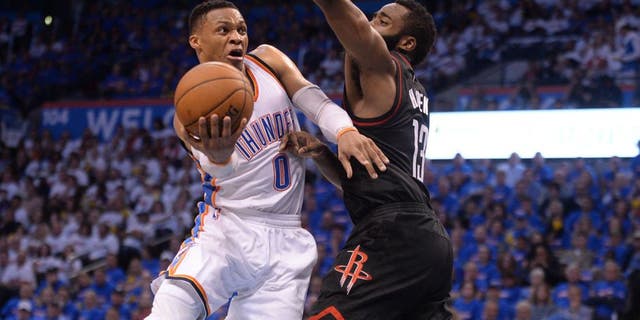 NEWYou can now listen to Fox News articles!
Hot take: Game 3 between the Houston Rockets and Oklahoma City Thunder was one of the best basketball games of 2016-17.
James Harden scored 44 points, grabbed six rebounds and dished six assists (along with seven turnovers), but it wasn't enough: Russell Westbrook tallied 32 points, 13 rebounds and 11 assists as the Thunder held on for a 115-113 win.
Harden had one last look for Houston in the closing seconds thanks to three missed free throws from Wesbrook over the final minute but came up short on a potential game-winning 3-pointer.
Westbrook was at his best for much of the night: trusting his teammates, disrupting the Rockets offense, and driving to the rim instead of settling for jumpers. In fact, he didn't attempt a 3-pointer until 35 seconds left in regulation. He missed, but Steven Adams was there for the putback.
The duel between two of the top MVP candidates was the second straight nail-biter in the series, as the Rockets posted a 115-111 win on Wednesday. Westbrook set a recordin that Game 2 with the first 50-point triple-double in NBA history, but his reluctance to trust his teammates down the stretch cost Oklahoma City a chance to seize home-court advantage.
Harden was the one to receive criticism on Friday night, as he took that last 3-pointer with time on the clock and a possible path to the basket. However, with the Rockets on the road and Patrick Beverley fouled out, taking the chances on the 3 was probably a better play than trying to win in overtime.
Game 4 is Sunday at 3:30 PM ET in Oklahoma City. The Rockets lead the series 2-1. Oh, and by the way: Westbrook is averaging a triple-double so far in the playoffs(35.0 points, 11.3 rebounds, 10.3 assists per game).