Russell Westbrook on Rockets defense: I can pretty much do what I want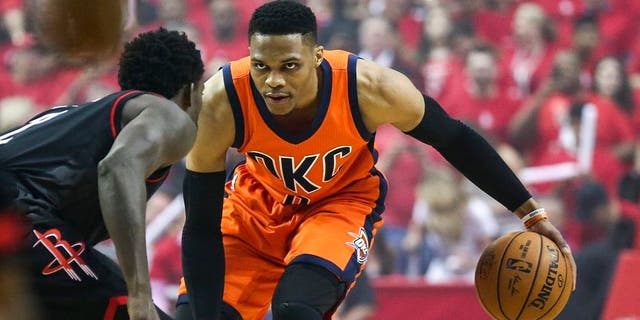 NEWYou can now listen to Fox News articles!
Russell Westbrooks struggles in Game 1 against the Houston Rockets certainly havent affected his confidence. The Oklahoma City Thunder star point guard admitted that Rockets guard Patrick Beverley is a good defender but the MVP candidate believes he can impose his will whenever he wants to in this series.
"He's a good defender for their team, but I don't worry about nobody, how they're defending, Westbrook said Tuesday, via ESPN. I can pretty much do what I want to do."
Westbrook didnt have his way with the Rockets in Game 1 on Sunday, shooting 6-of-23 and committing nine turnovers in the Thunders 118-87 loss. Beverley easily won the individual matchup, scoring 21 points on 8-of-13 shooting while hounding Westbrook at virtually every turn.
"I never worry about what other guys are doing; it doesn't bother me. I've seen it all already," said Westbrook, who finished with 22 points, 11 rebounds and seven assists in the blowout loss.
Westbrooks production paled in comparison to that of fellow MVP candidate and former teammate James Harden, who picked apart the Thunder for 37 points, seven rebounds and nine assists. Westbrook gets a chance to redeem himself and help Oklahoma City try to even the series in Game 2 on Wednesday.