Russell Westbrook explains how hell put aside his friendship with James Harden in series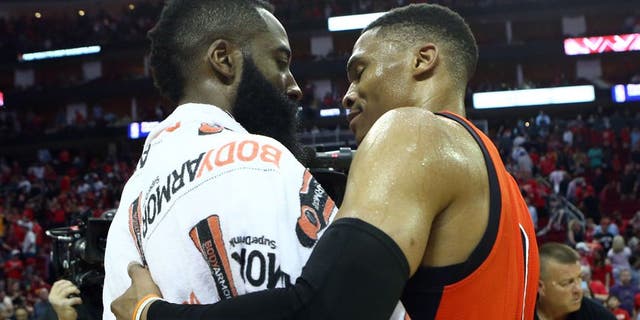 NEWYou can now listen to Fox News articles!
Russell Westbrook and James Harden are the two favorites for league MVP and will play critical roles in how the Thunder-Rockets first-round series ultimately is decided.
But the former Thunder teammates also share a friendship that was on display during the All-Star festivities. Harden sat next to Westbrook during the West team photo and joined Westbrook, who wanted to maintain his distance from Kevin Durant, when he decided to shoot by himself before the exhibition game.
But despite their history, Westbrook said it wont be a problem to go full force at Harden.
"When I get on the floor I got one friend and that's the basketball," Westbrook said, via ESPN. "I've been like that since I was a little kid. My dad told me that when I was younger, 'You got one friend and your friend is Spalding. At the time maybe it was Wilson or some other [expletive].' "Whatever the ball is, that's who my friend is."
Westbrooks intensity was on display all season when he became the first player since Oscar Robertson to average a triple-double. What will he have in store for his former teammate when the series tips off Sunday?