Russell Westbrook clowns reporter and addresses Mark Cuban situation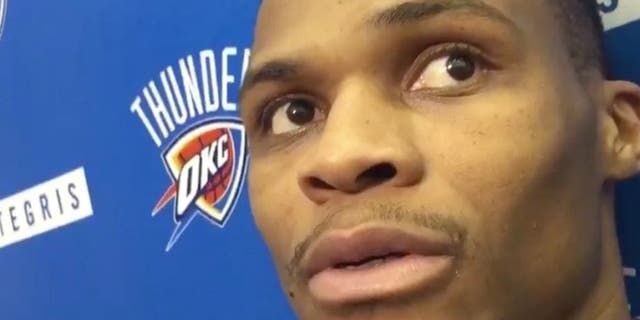 NEWYou can now listen to Fox News articles!
Mark Cuban said some dumb things this week about Russell Westbrook and his place in the NBA strata -- €"specifically, that Westbrook is "an all-star but not a superstar."
Westbrook, of course, responded by dumping 36 points on the Mavericks in Game 5 and eliminating them from the playoffs. He left the verbal jousting to Kevin Durant, who called the Mavericks owner an "idiot" and moved on.
On Wednesday, Westbrook's shared his first words on the matter. He's appreciative that Durant went out of his way to defend him, and said he'd readily do the same in return.
Westbrook's remarks were preceded by a perfect Westbrook-ian moment -- €"messing with a reporter for stumbling about a question during his first day on the job.
"Say what now my man?" Westbrook asked, responding to a question about his "improvisation" in "deny or option" rotations.
"You trying to use all these big words," Westbrook said. "Ask your question."
Oh, Russ.
Dan is on Twitter. He's just trying to use big words and ask questions.