Ruslan Magomedov remains undefeated in UFC with win over Shawn Jordan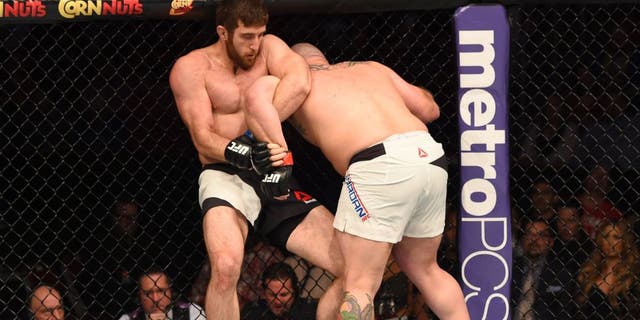 NEWYou can now listen to Fox News articles!
Ruslan Magomedov was able to use superior striking over three rounds to open a pair of cuts around Shawn Jordan's eyes en route to a unanimous decision win at UFC 192.
Magomedov, who trains out of American Kickboxing Academy, has continued to grow since joining the UFC and improves to 3-0 inside the Octagon with his latest win.
The heavyweights didn't offer much offense through round one with Jordan pressing forward and engaging in the clinch, but neither fighter gained a clear upper hand.
Magomedov did manage to land a few hard punches towards the end of the round, although Jordan didn't blink as he continued to stomp forward.
The second round started with a furious flurry as the fighters backed up against the cage and began winging punches at each other, but after some brief action, Jordan grabbed for the clinch again.
Jordan looked for the takedown, but while the fighters were separating Magomedov appeared to catch the college football player with a short punch that landed directly in the left eye.
As the third round began, Jordan came rushing forward like a bull, ducking his head down and swinging with wild punches. Once again, however, Jordan was ineffective in his attempts to land the big shot and Magomedov shrugged him off and continued to look for combinations of his own.
Magomedov's best shots all night landed in the final stanza as he peppered away at Jordan with a series of kicks that battered the big man in the body and on both side of the head.
By the end of the fight, Jordan had cuts under both eyes as blood trickled down his face and the damage done was enough to earn a decision win for Magomedov when it was all over.
Magomedov remains undefeated in the UFC with all three wins coming by way of decision. Magomedov is an intriguing prospect but he'll face some stiff competition as he starts digging into the top 15 at heavyweight.