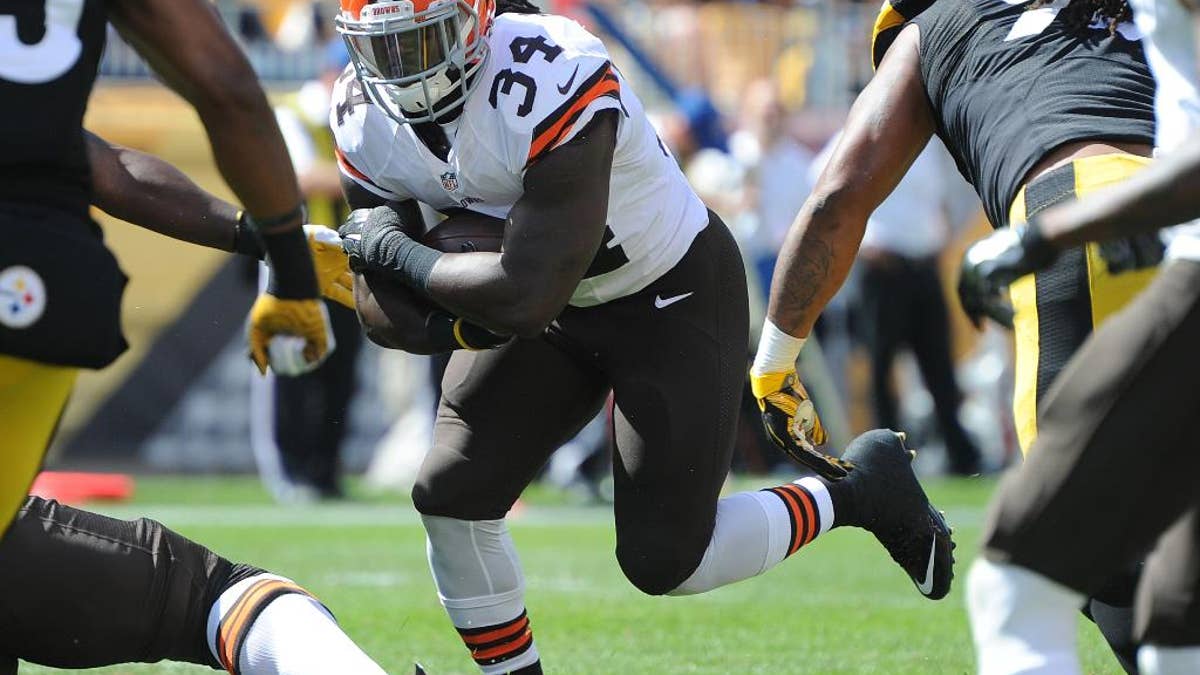 BEREA, Ohio – Thrown into their first NFL game — in Pittsburgh, against the vaunted Steelers — rookies Terrance West and Isaiah Crowell didn't shown any nervousness or fear.
They performed like seasoned veterans for the Browns.
They need to do it again.
With starting running back Ben Tate out with a sprained knee, West and Crowell will play Sunday as the Browns (0-1) host New Orleans. After Tate got hurt in the first half last week in Pittsburgh, West rushed for 100 yards — 91 in the second half — and Crowell scored two touchdowns as the Browns rallied from a 24-point deficit before losing 30-27.
Browns coach Mike Pettine was pleased with how his rookie runners fared against the Steelers.
"It was encouraging," Pettine said before practice Wednesday. "But they need to be able to take the next step, and this is another challenge for them, to go against this type of defense and it's nothing that either one of those guys have seen before. It will be a good test for them."
West, a third-round pick from Towson, and Crowell, an undrafted free agent whose college career began at Georgia before he transferred to Alabama State, passed their first test with relative ease. They weren't intimidated and Pettine credited running backs coach Wilbert Montgomery with having the youngsters ready.
Pettine did not provide any details on Tate's injury, only confirming he will sit this week. However, there's a chance Tate could be out for an extended period, which would push West and Crowell up the depth chart.
If their debuts were any indication, the Browns might not miss Tate.
West, a 5-foot-10, 225-pounder, averaged 6.3 yards on 16 carries and became the first Cleveland back in 27 years to rush for 100 yards in his first pro game. Crowell, the SEC's freshman of the year before legal problems derailed his career, scored a 3-yard TD on his first carry and on a 15-yarder.
The backs have comparable running styles. Neither has breakaway speed, but while West admits he wants to score every time he touches the ball, Crowell is more patient and takes what defenses give him.
"He's a slasher," Pettine said of the 5-foot-11, 225-pounder. "He can put his foot in the ground and cut. He's decisive. He's a guy that, if you polled DBs and said, 'Hey, do you want to make a list of guys that you want to tackle?' I don't think he makes that list."
"Terrance is more of a 'can make you miss' guy. I don't know if Crowell wants to make you miss," Pettine said.
Saints coach Sean Payton became familiar with West last year on TV. Payton was watching his alma mater, Eastern Illinois, play Towson in the snow and West wasn't slowed by the wintry conditions.
"He had about 310 yards," Payton said.
"354," West said, correcting Payton and adding he scored five touchdowns.
Maybe wearing his college number again helped. He wore No. 20 during training camp and the preseason, but after veteran back Dion Lewis was released, West asked if he could have No. 28. Cleveland's coaches told him he had to earn it and by game time last Sunday he was 28 again.
Unfazed by the stage, West ran against the Steelers the way he did in college, where he rushed for 2,509 yards last season with 41 TDs.
Pettine wants him to "finish" runs better, and while West understands his coach doesn't want him to force things, he's got one mission with the ball.
"I'm always trying to score, every play," he said. "I mean every running back should think like that. The great running backs do."
Crowell's background — he was dismissed at Georgia on weapons charges later dropped — had him wondering about his football future. Looking back, it changed him.
"It just made me work harder, made me hungrier," he said.
Crowell believes he's just getting started. His debut in Pittsburgh was just his first step.
"I feel I can be great," he said. "I feel like I can be one of the best. I want to be one of the best, and that's how I'm going to work."
NOTES: Pro Bowl TE Jordan Cameron said an MRI showed no structural damage in his right shoulder. He was limited in practice and doesn't know if he'll play this week. ... P Spencer Lanning said he did not speak with Steelers WR Antonio Brown, who kicked him in the face on a return. Brown had said he talked to Lanning after the game. "I'm not going to say he didn't talk to me, but I didn't talk to him," Lanning said. "I didn't see him. I was looking for him. I made a point to try to look for him." Lanning would not say if he felt Brown should be fined.