Running back questions cropping up for No. 19 Oklahoma State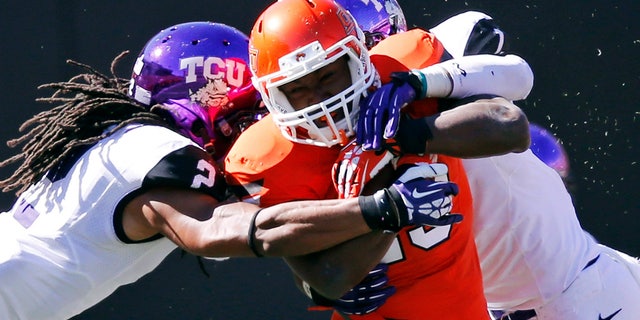 STILLWATER, Okla. – No. 19 Oklahoma State has some uncertainty at running back.
Luckily, the Cowboys have options.
Senior Jeremy Smith, who has been stifled in two of the last three games, limped off the field in the third quarter in the Cowboys' 24-10 victory over TCU last weekend, putting his availability in question.
Considering the explosive performance by true freshman Rennie Childs in relief in that game, Oklahoma State (5-1, 2-1 Big 12) suddenly has some choices when it comes to distributing the ball.
Childs made a case for more significant playing time, leading the Cowboys with 45 yards on nine rushes. He also scored his first career touchdown with 6:04 remaining to restore Oklahoma State's 14-point lead. He also turned a screen pass into a 34-yard gain.
"Explosive, confident, very competitive," offensive coordinator Mike Yurcich said of Childs. "It was great to see him get out there and compete and execute. I think he's got an edge to him, he's competitive and he's tough."
So will Childs get more playing time against Iowa State (1-5, 0-3 Big 12) on Saturday?
"I think we'll see him earlier (in the game). How much more depends on how things go with the running back situation," coach Mike Gundy said.
The coaches will talk over their options after seeing the backs practice this week.
It could depend on Smith's health. He still ranks tied for second in the Big 12 with seven rushing touchdowns, even after gaining just 14 yards on 12 carries against TCU, and despite being neutralized in the Cowboys' 30-21 loss at West Virginia on Sept. 28 with 1 yard on 15 carries.
"The biggest thing to focus on is to run forward," running backs coach Jemal Singleton said of Smith. "I think he understands it, it's just him getting a visual and saying, 'I don't have to try and make everybody miss, sometimes I can run through an odd tackle.' That's been the big thing, get north more often, make one cut and go."
Oklahoma State's second-string running back, junior Desmond Roland, has had impressive moments this season, most notably his 46 yards on seven carries in the West Virginia game. His 3-yard touchdown run in the second quarter against TCU put the Cowboys ahead 17-0, but he wound up with just three carries for 11 yards in that game because Childs was so impressive.
Even though Childs had only seen mop-up duty in early season blowout victories over Texas-San Antonio and Lamar, gaining 15 yards on six total carries, his performance did not surprise anyone who has been watching him in practice.
"We have two good running backs in Jeremy and Des, so I didn't know that he was actually going to get to play, but in practice, he's shown this," said senior receiver Tracy Moore, who made five receptions for 77 yards Saturday. "He's shown it since he first got here in the summer, just the speed he has is amazing, and his moves. He has so much heart and toughness about him. I knew he was going to be a great player in the future, but I didn't know he would make an impact like this, this early."
Gundy had seen enough lately to give Childs a chance on Saturday once Smith came out.
"He's done better the last three weeks and made some strides," Gundy said of Childs. "There are other things involved in playing running back than just running the ball, and he's done fairly well in those areas over the last few weeks."
How much of an impact Childs has against Iowa State probably depends on a number of factors, starting with Smith's availability, as well as how each running back handles his first few touches.
"If a guy's in the zone, you see a guy that's got that little pep in his step, you never mess with the mojo," Singleton said, regarding how the carries are distributed. "If a guy's feeling it, and you can tell — the head's popping, the walk, they're getting up quick, I don't want to mess with that. You've got to go with the hot hand."