Rudy Gay reportedly tells Kings he likely won't return next season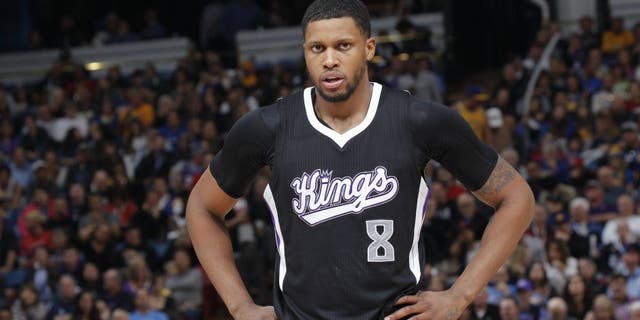 The Sacramento Kings have struggled to move in a positive direction in recent years, and this bit of news probably won't help.
Veteran forward Rudy Gay told the organization that he plans to exercise his player option next summer and likely will leave the team, The Vertical reported Monday. Gay has spent the past 2 1/2 seasons with the Kings, who haven't had a winning year since 2005-06.
Gay, who holds a $14.3 million player option for 2017-18, played in 70 games last season and averaged 17.2 points, his lowest average since his rookie campaign.
Gay's reported desire to play elsewhere could force the Kings into possibly trading the 30-year-old forward, but owner Vivek Ranadive wants to keep him on the roster as the franchise moves into its new arena this season, according to the report.
The Kings acquired Gay from the Raptors during the 2013-14 season and signed him to a three-year, $40 million deal. Despite having Gay, All-Star center DeMarcus Cousins and point guard Rajon Rondo last season, the team finished just 33-49. It was the first time the Kings have won at least 30 games since 2007-08.
If this past summer was any indication, Gay, who has averaged 18.4 points during his 10-year career, could command a lucrative deal on the opening market next year.