Rudolph leading the way for Oklahoma State with 12 straight wins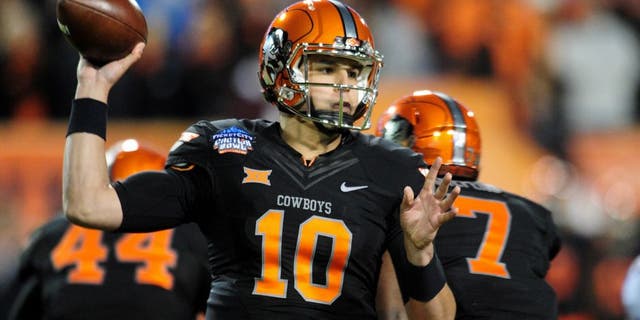 NEWYou can now listen to Fox News articles!
STILLWATER, Okla. (AP) -- A year ago, Oklahoma State quarterback Mason Rudolph showed promise while losing his first career start as a true freshman against Baylor.
He hasn't lost since. Rudolph has led the Cowboys to 12 consecutive wins dating to last season, and now, the fourth-ranked Cowboys are on the verge of a Big 12 championship. Oklahoma State (10-0, 7-0 Big 12) can clinch a share of the title with a win over No. 10 Baylor (8-1, 5-1) on Saturday.
Rudolph has thrown for 3,161 yards this season, the third-best total in school history, with 18 touchdowns and eight interceptions. Last week, he completed 24 of 36 passes for 327 yards and a touchdown in a 35-31 win over Iowa State.
Oklahoma State coach Mike Gundy said Rudolph, a 6-foot-4 pocket passer, is very good and getting better.
"I thought last week was his best week of understanding coverages and dumping the ball down and getting the ball in the hands of players who could make positive yardage for our team," Gundy said.
Iowa State often dropped eight defenders and forced him to check down. That he was willing and able to find the right people to move the chains with short passes is significant for a strong-armed passer who has been successful finding receivers down the field.
"For a young quarterback to be patient and take the underneath stuff was great to see for us," offensive coordinator Mike Yurcich said. "It was a big development for us, and very encouraging."
Though he sometimes shares snaps with J.W. Walsh, Rudolph ranks third in the Big 12 in passing yards per game and fourth in pass efficiency. In his past four games, he has completed 67 percent of his passes for 1,269 yards with nine touchdowns and just one interception. He threw six interceptions in the previous three games.
"I think he's matured and grown up," Gundy said.
Rudolph threw for 401 yards against Central Arkansas, then topped that with 437 yards and three scores against Kansas State. He passed for 352 yards and five touchdowns in the 49-29 win over TCU that got the nation's attention.
Walsh was the starter last year before a season-ending right foot injury. Rudolph played well enough in the final three games -- the loss to Baylor and wins over Oklahoma in the regular-season finale and Washington in the Cactus Bowl -- to be declared the starter before spring practice.
Oklahoma State's coaches have used both quarterbacks, and it has worked with alarming efficiency. Walsh, a mobile quarterback who primarily plays in the red zone, has completed 22 of 28 passes for 335 yards with 10 touchdowns and no interceptions. He also has rushed for 226 yards and 10 more scores on just 50 carries.
Rudolph doesn't mind sharing the spotlight with Walsh.
"I knew the kind of player he was from day one and the competitor that he is and that I am," Rudolph said. "We just jibe well together."
The combination has helped the Cowboys come through in tough situations. Oklahoma State has won three games by four or fewer points and another in overtime, and has trailed by 15 or more three times this season before rallying to win.
"We're a mature team," Rudolph said. "We're a bunch of veterans on this team that have been through a lot of different situations and a lot of adversity. We faced a lot of adversity last year and didn't come out on top. We've just come together and grown as a team and realized that we're never going to get down on each other, and to always fight back."
MORE FROM FOX SPORTS SOUTHWEST:
- PHOTOS: Cowboys Cheerleaders Auditions
- Ranking NFL quarterback salaries
- Highest paid player on every NFL team
- Oldest player on every NBA team