Rudolph is the Cowboys next big thing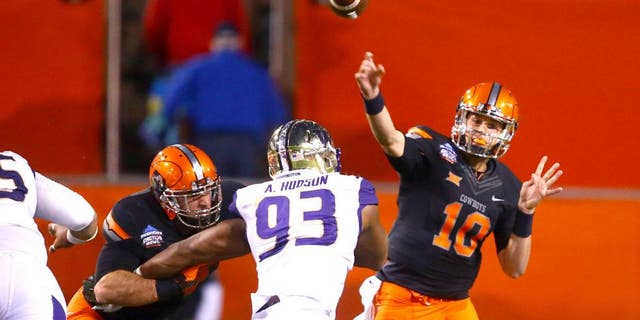 Oklahoma State is a trendy pick to challenge for the Big 12 championship.
But want to know what's not trendy at all? Mason Rudolph. Ever since Mike Gundy took Rudolph out of redshirt with just three games to go in the 2014 season, Rudolph has been the talk of the town.
The result of all that chatter?
Oklahoma State wide receiver James Washington said to The Oklahoman, "He's the real deal."
Defensive end Emmanuel Ogbah told The Oklahoman, "He looks like a veteran."
That's because Rudolph averaged 284 yards passing in the final two games of the season, throwing six touchdowns in that span.
Meanwhile, he's yet to even play a home game heading into his sophomore season.
"(Rudolph) has done a good job of it in the three games he's played, and he was doing that at 218 pounds coach Mike Gundy said to The Oklahoman. "He's 228 now so he's obviously stronger and a little more experienced. What I hope for is that he continues that because that's not something you can coach. Guys can either escape and get away and make a play or they can't."
So far Rudolph has made the plays for Oklahoma State. He'll start the season Thursday night at Central Michigan.
(H/T The Oklahoman)