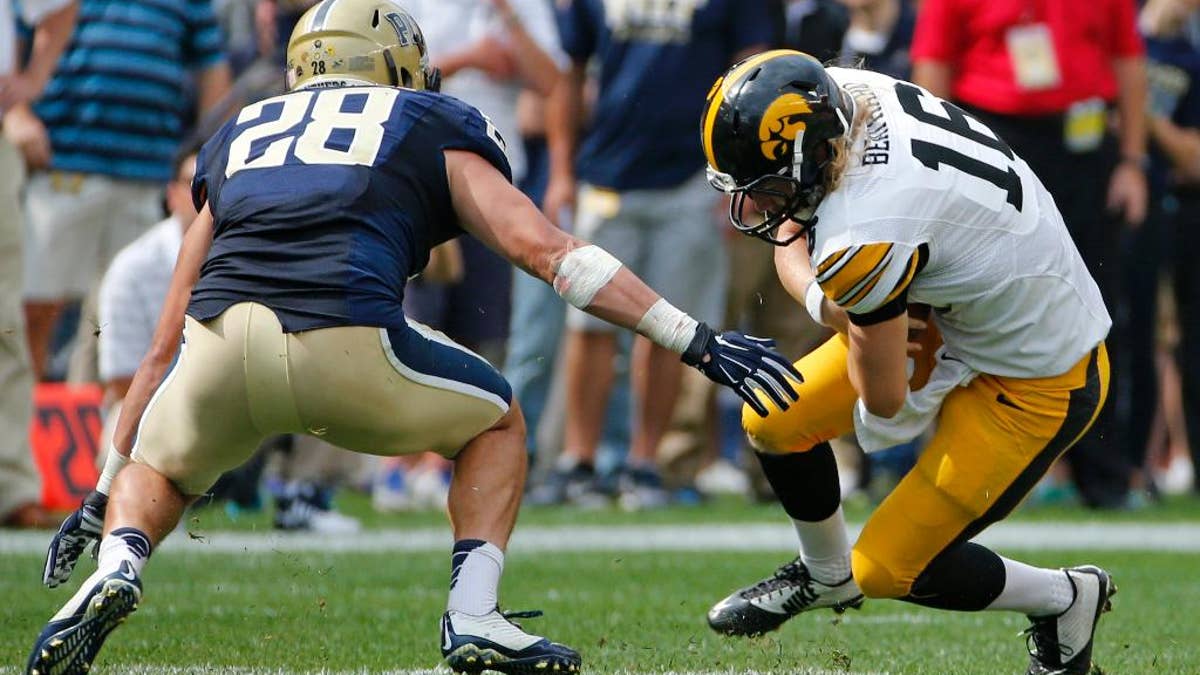 IOWA CITY, Iowa – Iowa's quarterback situation hasn't been this confusing in a long time.
That might not be a bad thing for the Hawkeyes.
On Monday, Iowa listed junior Jake Rudock atop the depth chart for Saturday's game at Purdue (2-2). On Tuesday, coach Kirk Ferentz declared Rudock "day-to-day" after he hurt his leg in last week's 24-20 victory at Pittsburgh.
Ferentz also said that emerging sophomore C.J. Beathard would start the first practice of the week. But that was only because Rudock hadn't been cleared medically.
The only thing that appears certain is that one of them will start for the Hawkeyes (3-1) against the Boilermakers. Not even Ferentz seemed to know who it will be.
"We'll play whoever is ready to go. It's not that big of a deal to us. We'll rally behind who's out there. We're not going to put Jake out there if he's not able to play the way he has to. C.J. will be ready to go, if that's the way it turns out," Ferentz said.
If Beathard can keep playing like he did against the Panthers, Rudock's health might not matter. Beathard was 7 for 8 passing for 98 yards last week as the Hawkeyes (3-1) rallied from a 10-point deficit and beat the Panthers 24-20.
"It happened like that, so I wasn't really expecting it. It just kind of hits you and then you're like, 'Man. I'm going in. This is my time to lead. Now I've got to lead this team,'" Beathard said.
The competition between Rudock and Beathard is clearly closer than ever. Rudock has started 17 games for the Hawkeyes. He's got a decent track record, a firm grasp of the offense and the trust of the coaching staff. Beathard has never started before. But he appears to have a stronger arm than Rudock, and he's arguably more athletic.
Heck, even Beathard's own teammates have nicknamed him "Sunshine," for his uncanny resemblance to the floppy-haired, blonde backup who led his team to a title in the movie "Remember the Titans."
Last week, it took just two quarters for Beathard to revive an offense that had struggled all year.
Beathard led Iowa on three consecutive second-half scoring drives. He threw a perfect deep ball that led to Damond Powell's one-handed, 62-yard reception, and he hung tough on a third-down completion to Ray Hamilton that extended Iowa's game-winning drive.
"That was a nice play. It took a lot of — courage I guess is the best word — to hang in there when you've got a couple of guys in your face," Hamilton said. "I don't know how much athleticism it (showed). It was more just being tough, knowing that we needed a big play."
In Rudock's defense, he's on pace to throw for a higher completion percentage (66.9) than in 2013 while cutting his interceptions in half.
But most quarterbacks are judged on how many points the offense puts up.
The Hawkeyes have scored just 72 points in 14 quarters behind Rudock, an average of 20.5 points a game.
After a shaky practice late last week, Beathard nearly matched that in 30 minutes on the road.
Still, Rudock's experience could be the deciding factor — if he's healthy enough to play.
"The good news is we found out about Jake last year. I think we found out early that he's a guy that can play at a really high level and we can win with. And due to the injury to Jake, we found the same thing out about C.J.," Ferentz said. "It's a really unusual situation."
___
Follow Luke Meredith on Twitter: www.twitter.com/LukeMeredithAP