Ruben Tejada is still bitter about Chase Utley's hard slide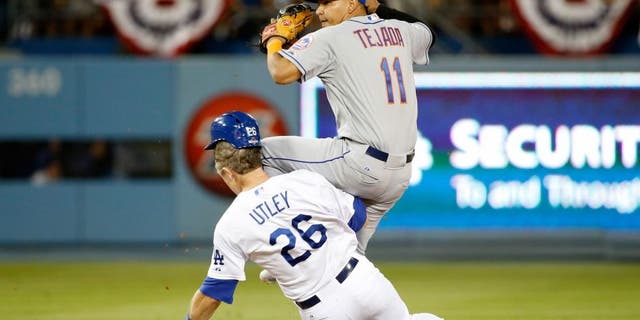 NEWYou can now listen to Fox News articles!
Four months after his leg was broken in a controversial slide by veteran Chase Utley in the NLDS, New York Mets infielder Ruben Tejada is still fuming.
Tejada's right leg has healed and he is back on the field, but the metaphysical wounds that Utley opened up apparently still have yet to heal.
"I know it's part of the game, but not like that," Tejada told the New York Post as he reflected on the controversial slide. "I would never do that to another infielder. That is the position I play and I would never want to hurt another player that plays that position like that. It would have been different if some other position player, a corner infielder or an outfielder had done that to me, but he is a middle infielder, he should know better."
The play occurred in the bottom of the seventh inning of Game 2 of the NLDS between the Mets and the Los Angeles Dodgers with one out, runners on the corners, and the score tied at 2.
After losing Game 1 at Dodger Stadium, the LA needed to win Game 2 in order to have a realistic chance of winning the series, which would head back to New York for Games 3 and 4.
Utley knew as much when he was on first base, and came barreling into Tejada to break up a potential rally-ending double play on a groundball from Howie Kendrick.
The Dodgers won Game 2, but eventually lost the series in five games.
Tejada says that he has yet to speak with Utley in the wake of the incident.
"He sent me a couple of things," the 26-year-old Panamanian told the Post. "But nothing has changed. I haven't talked to him."
That could change when the Mets host the Dodgers in a three-game series on May 27-29 in the teams' first meeting of 2016.
"I would hear what he has to say first before I said anything," Tejada said. "I would like to hear an apology."