Royals will try to avoid third series sweep of season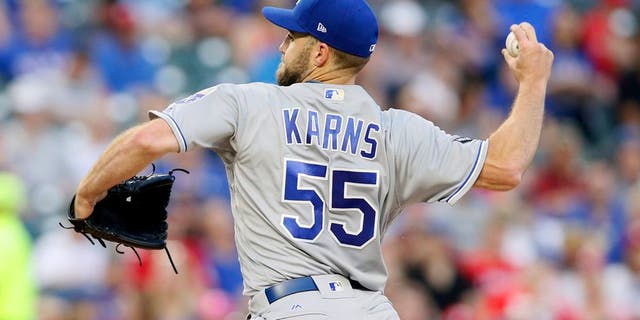 NEWYou can now listen to Fox News articles!
The Kansas City Royals have been swept by the Minnesota Twins and Texas Rangers already this season. They must win Wednesday afternoon at Chicago to avoid their third sweep in the season's first month.
Kansas City (7-13) has dropped six games in a row while getting outscored 36-11.
Manager Ned Yost hopes a strong finish in Tuesday's 10-5 loss to the White Sox will translate into a better performance Wednesday. Brandon Moss and Mike Moustakas each clubbed home runs in the ninth inning, a night after the Royals fell 12-1 to the White Sox.
"Maybe that will help get us going here a little bit," Yost said.
Royals right-hander Nathan Karns (0-1, 6.35 ERA) will try for his first win of 2017 as he makes his fourth start of the season and the 50th start of his career. The 29-year-old is 14-10 with a 4.53 ERA in parts of five seasons with the Washington Nationals, Tampa Bay Rays, Seattle Mariners and Kansas City.
An afternoon start could spell good news for Karns, who typically does his best work before dinner.
Karns has not lost in his past five daytime starts, and he is 3-2 with a 2.94 ERA in 12 career starts during the day. In each of those 12 outings, he has pitched at least five innings.
Karns is 0-1 with a 4.96 ERA in three career starts against the White Sox. He has not faced Chicago since 2015, when he was a member of the Rays.
Left-hander Jose Quintana will aim for his first win of the season for Chicago.
Quintana (0-4, 6.17 ERA) has lost all four of his starts since inheriting the role of White Sox ace from Chris Sale, who was traded to the Boston Red Sox in the offseason. He has allowed 16 earned runs in 23 1/3 innings and walked 4.6 batters per nine innings, more than double his rate of 2.2 from 2016.
Despite his struggles, Quintana said he is confident the victories will come.
"Absolutely, man," said Quintana, who earned his first All-Star selection last season. "It's the first month, and I want to be in a better position, but this happens. Head up and go and be ready for the next start and get some wins, that's all."
The White Sox (10-9) have performed above expectations despite Quintana's turbulence. They have scored 28 runs in three straight wins.
Chicago has scored 10-plus runs in back-to-back games for the first time since 2012, and the club is going for its first sweep of the season against a Royals team that beat the White Sox 14 times in 19 meetings in 2016.
Quintana has not fared well against Kansas City during much of his career. In 22 career starts, he is 1-9 with a 4.39 ERA. His lone victory against the Royals was Sept. 5, 2015.
Shaky numbers against the Royals and this season have not diminished Quintana's spirit heading into Wednesday.
"We have a long season," Quintana said. "I'm not frustrated right now. Sometimes, this happens, and I never look back. Every time I try to go ahead and keep going. That's it."