Royals will try to avoid sweep and ninth straight loss to A's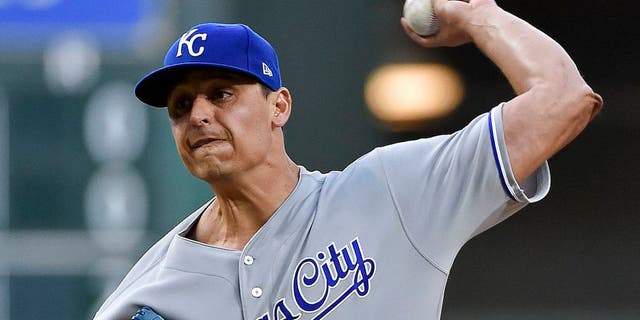 Jason Vargas,one of only two Kansas City pitchers with a win this season, will take the mound Thursday night as the Royals try to avoid not only a sweep by Oakland, but also a ninth consecutive loss to the Athletics.
Vargas (1-0, 1.50 ERA) won at Houston on Friday in his season debut after missing most of last year following Tommy John surgery. The left-handerlimited the Astros to one run on six hits and a walk over six innings.
"I was able to control the strike zone," Vargas said. "I was able to get some bad swings early, and that usually helps out if you're able to keep controlling the strike zone and forces them to put pressure on themselves.
"There are a lot of factors that go into it. They got themselves out a few of those times. We made some good plays. There are just a lot of things that factor into an overall successful outing. But just being prepared is the most important."
Vargas is 7-7 with a 3.22 ERA in 20 career outings, 18 of them starts, against the Athletics. He last faced them Aug. 13, 2014, throwing a complete-game shutout. Vargas' single-game strikeout high is 10, which he has accomplished twice, both against Oakland, on Sept. 26, 2011, and June 26, 2012.
The Royals brought up right-hander Jake Junis and left-hander Scott Alexander from Triple-A Omaha on Wednesday, giving them eight relievers instead of seven.
"We needed arms," Royals manager Ned Yost said. "We were hoping to keep (outfielder Terrance) Gore around a little bit longer, but we were just overusing guys down there (in the bullpen)."
Gore was sent to Double-A Northwest Arkansas to make room for another reliever. Alexander worked a perfect 2 1/3 innings Wednesday, while Junis pitched out of a bases-loaded jam in the ninth in his big-league debut.
Right-hander Jesse Hahn will start for the A's instead of Raul Alcantara, who was removed from the rotation after getting rocked in his first start of the season.Alcantara recorded just six outs while allowing eight runs on four hits, including two home runs, two walks and a hit batter Friday at Texas.
Hahn came in after Alcantara exited and held the Rangers to two runs and seven hits over six innings. It was his third career relief appearance and his first for Oakland.
"I had the mindset to go out there and keep us in the ballgame," Hahn said. "Just be aggressive and throw my fastball and just getting ahead of guys. It almost felt like a start because it was six innings."
Hahn (0-0, 3.00 ERA) is 1-1 with a 2.38 ERA in two career starts against Kansas City. He has allowed 12 hits, including two home runs, while striking out five and walking two in 11 1/3 innings vs. the Royals.
The A's will be looking for their ninth consecutive victory over the Royals on Thursday. The franchise record for most consecutive victories against the Royals is 10, set in 2002-03.
"It is a tough team, and it's been a tough team for us, so hopefully it continues," Melvin said.
Melvin dropped struggling designated hitter Ryon Healy from third to sixth in the batting order Wednesday. It paid immediate dividends; Healy went2 for 4 with a double, a walk and a run.
"It's more about just giving Healy a little bit of a break," Melvin said. "He'll be back (batting third), no doubt. This happens multiple times over the course of the season. Just take a little pressure off with the three spot. He worked his way into the three spot last season for good reason. And he'll be back at some point."