Royals, Vargas to take another shot at Yankees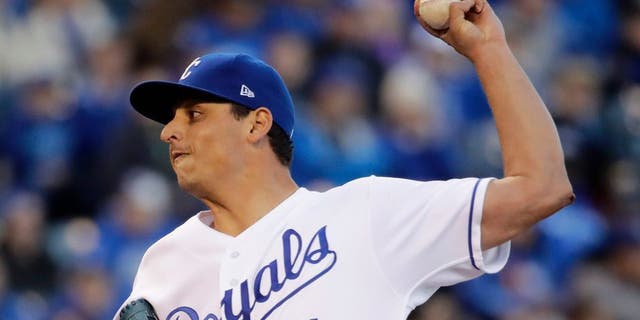 KANSAS CITY, Mo. -- Jason Vargas has the best ERA in the majors, 1.01, after seven starts.
However, the Kansas City Royals' left-hander, who starts Wednesday against New York, has had no success against the Yankees.
He is 0-5 with a 6.53 ERA in eight starts and one relief appearance against the Yankees, who counter with right-hander Michael Pineda.
One theory on Vargas' success this season is his release point is a couple of inches lower than in previous years.
"I didn't work on it, maybe it just evolved in the 16 months I had to work on things," Vargas said Tuesday.
Vargas (5-1) missed most of the 2016 season after having Tommy John surgery in 2015.
"I'd like to try not to think about it as much as possible," Vargas said of the injury. "Obviously, there are some things that go into daily preparation that remind me of it."
He said returning to make three starts at the end of last season and producing a 2.25 ERA, allowing eight hits and striking out 11 in 12 innings, helped him heading into this season.
"I was really hoping I was going to get the opportunity, and going into the offseason, it made it a heckuva lot easier as far as questions that needed to be answered in my mind," he said. "I feel pretty similar to how I was before. Obviously, there's been some success to start off. I feel really good the way I've been able to come back and not have any hiccups."
He has not faced the Yankees since May 26, 2015, and he does not have much of a history against many of their hitters.
The Royals (16-22) have won six of their past eight after falling 10 games below .500. However, they lost 7-1 in the series opener to the Yankees on Tuesday.
"I see a group of guys that's capable of putting together a pretty good run over a course of the season," Vargas said of his teammates. "We didn't start out like we wanted to, but we're finding what it takes for us to click as a team on a night-in and night-out basis. It's starting to come around."
Yankees manager Joe Girardi is aware of the Royals' recent surge.
"They've swung the bats a lot better," Girardi said. "They struggled early on in April. They had some bullpen issues early on in April. Sometimes that happens when you start moving guys back and guys have got to figure out what their new role is and how they're going to be used and you integrate as well. And that's why they're playing a lot better."
Pineda (3-2, 3.27 ERA) will be facing the Royals for the first time this season. He has a 3-5 record with a 3.88 ERA in eight starts against Kansas City, allowing 45 hits and 22 earned runs in 51 innings. He is 2-2 with a 4.56 ERA in four starts at Kauffman Stadium.
Royals third baseman Mike Moustakas is 6-for-13 with two home runs off Pineda, while Salvador Perez is 8-for-20 with one home run and three RBIs. On the flip side, Lorenzo Cain is 2-for-13 and Alex Gordon is 4-for-21 versus Pineda.
The Yankees are 5-2 in his seven starts, winning five of the past six.
Pineda is 3-1 with a 2.63 ERA in his past six starts. He carried a perfect game into the seventh inning of the Yankees' home opener on April 10. In the 8-1 victory over the Tampa Bay Rays, he gave up one run on two hits over 7 2/3 innings while striking out 11 and walking none.
Pineda had his five-game undefeated run snapped in his last start, a 3-2 loss Thursday to the Houston Astros. Pineda gave up three runs on six hits, including a two-run homer to Carlos Correa in the first, over 6 2/3 innings.