Royals to get first shot at Cueto since he left for Giants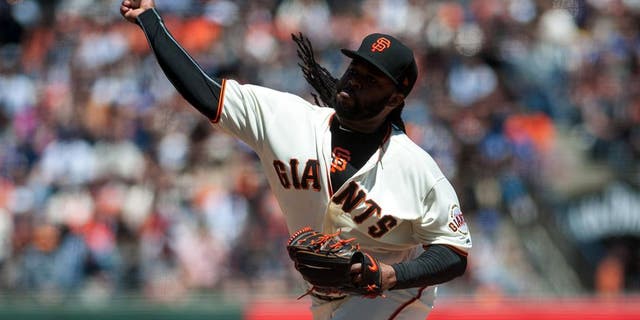 NEWYou can now listen to Fox News articles!
SAN FRANCISCO -- Right-hander Johnny Cueto will face the Kansas City Royals for the first time since leaving them after winning the 2015 World Series when he pitches the interleague-series finale for the San Francisco Giants on Wednesday afternoon.
The Royals got what they paid for when they acquired Cueto from the Cincinnati Reds at the trade deadline in 2015.
He went just 4-7 with a 4.76 ERA in 13 regular-season starts, but he helped pitch the Royals into the postseason, where he shined on the national stage, throwing a complete-game win in Game 2 of the World Series against the New York Mets.
Signed to a six-year, $130 million contract by the Giants as a free agent that offseason, Cueto worked his magic again in San Francisco last season.
He went 18-5 in 32 starts, helping the Giants earn a wild-card playoff spot, and then pitched brilliantly in Game 1 of the National League Division Series against the Chicago Cubs in a 1-0 defeat.
The Giants lost the series in four games and will be hard-pressed to earn a shot at a rematch this October. Cueto hasn't been nearly as good this season, going 5-5 with a 4.33 ERA, and the Giants have struggled, leaving them well behind last year's pace.
The Giants ran into a hot pitcher, Royals ace Jason Vargas, in Tuesday's 8-1 loss in the series opener, but manager Bruce Bochy thought his team deserved better than a blowout defeat.
"We're just not quite getting to some of these balls (in the field)," he claimed of a handful of seeing-eye hits among the Royals' 15 in Tuesday's win. "I think you've got to attribute bad luck to it for the most part. Some of them, you'd think we're going to come up with a play. Most of it is just bad luck. It's just not quite there. Tonight was one of those."
Cueto faced the Royals three times while with the Reds, going 1-2 with a 3.79 ERA.The veteran is 14-6 with a 2.64 ERA in 30 career interleague starts.
Kansas City will counter with right-hander Jason Hammel, who will be making his 33rd career interleague start, including his second against the Giants this season.
The first-year Royal limited the Giants to one run in six innings in April, a game San Francisco eventually won 2-1.
Hammel has never beat the Giants, going 0-3 with a 3.02 ERA in 12 career games (11 starts), and hasn't beat anyone on the road since last July, a stretch of eight starts during which he has gone 0-7.
In a matchup of longtime National League pitchers in an NL park, Cueto and Hammel will have to bat against each other. Advantage: Hammel, a .156 career hitter who had an RBI single among two at-bats when the veterans went head-to-head in June 2015.
Cueto, who has a .110 lifetime batting average, went 1-for-3 against Hammel in a game the Reds won 5-4 over the Cubs in 10 innings.
Cueto will be running into a Royals team that has averaged 7.8 runs in its first four games of a Western swing. Nineteen of the 31 runs have been the product of four-, six- and nine-run innings.
"We've been doing some nice things offensively lately," said Vargas, whose club has won six of its last nine road games. "We'll try to keep it going as long as possible."