Royals stun Blue Jays with 5-run 7th inning, take 2-0 ALCS lead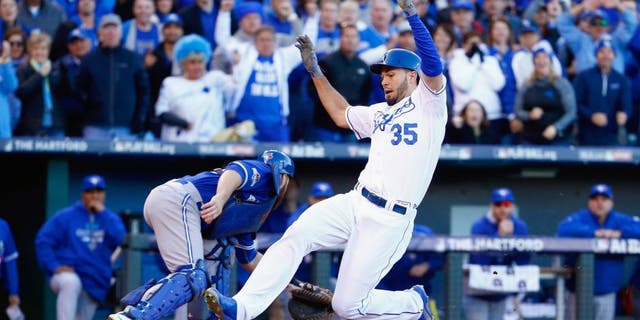 NEWYou can now listen to Fox News articles!
The Kansas City Royals staged yet another improbable postseason comeback on Saturday, rallying from a 3-0 deficit in the seventh inning for a 6-3 win over the Toronto Blue Jays -- and a 2-0 lead in the ALCS.
The seventh started innocently with Ben Zobrist lifting a popup to shallow right field. But the ball fell between right fielder Jose Bautista and second baseman Ryan Goins.
That misplay seemingly rattled Blue Jays starter David Price, who had retired 18 consecutive batters coming into the inning. By the end of the inning, Price was on the bench and the Royals had scored five runs. They added another in the eighth.
Game 3 is Monday at 7 p.m. ET in Toronto (on FS1).